Going for a long-deserved vacation or a road trip can be made more fun when you take your pet along for the ride. Here are some of the reasons why you should consider reserving another spot in your car for your pet.
Also included are a few tips to make the trip a lot more fun (like deciding what pet accessories you should grab before you head out the door).
1. They Don't complain
Whether it's about your driving, figuring out what route you are taking, getting lost, making pit stops, or estimating the time it takes to get to your destination, you will never hear your pet whine. Dogs, in particular, are just happy to travel with you.
The same goes with where you choose to explore. You'll never hear your pet rant about your choice of accommodations, restaurants or places to check out. As a result, you'll both have more fun enjoying your trip and everything the place has to offer.
2. They make good conversation starters
Traveling with your pet makes it easier to talk to people, whether you are traveling locally or abroad. Pets do grab attention so you can expect a lot of heads turning when you walk around with yours. They also make good ice breakers. If you can't think of anything else to say, you can talk about your pet.
3. Pets reduce stress
Pets are amazing sources of entertainment even during unexpected mishaps like traffic jams, flight delays or if your car breaks down. It's fun watching them make faces at everything while you drive along the highway. Pets can also remind you not to take things too seriously. If you are having a bad day or things didn't go your way, a quick nuzzle from your pet can make your stress go away.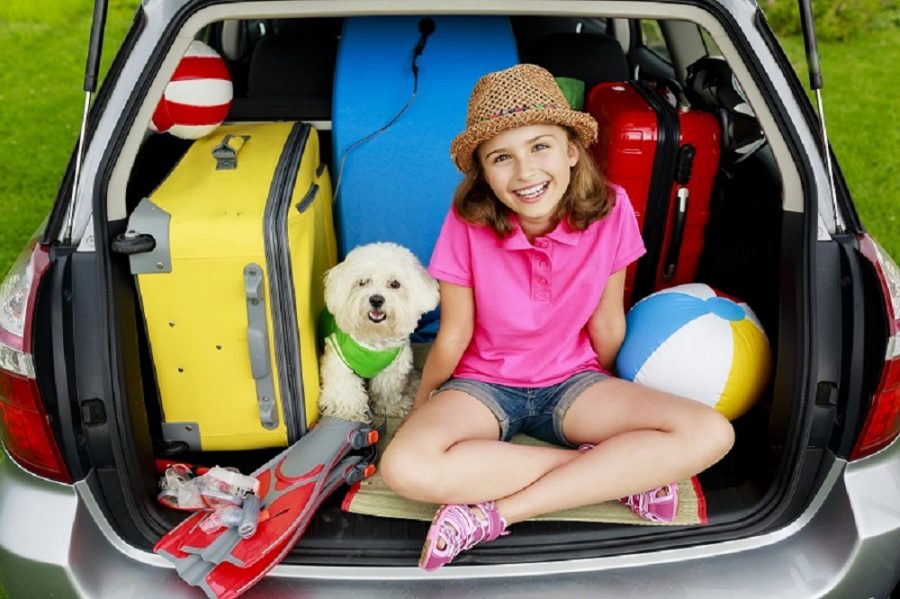 Tips for a fun trip
1. Bring Your Usual Pet food and toys
Switching your pet food abruptly during the trip can cause upset stomach in your pets. As a result, your dog or cat might end up feeling nauseated during the trip.
Try to feed your dog approximately three to four hours before the trip. This gives the food enough time to settle in your pet's stomach and enables your pet to go through the usual post-mealtime routine before you go.
For long trips, bring your pet's favorite bedding and toys. This will make your pet feel more comfortable during the trip.
2. Take Short Trips
For younger pets or if you have never traveled with yours before, it is important to ease them into the experience. Try to get them to feel comfortable being in your car first. A few weeks before your trip, get your pet to sit inside. Praise them and give them treats to help your pet settle in. Drive to a place nearby where you can have fun so they won't associate being in your car with an unpleasant experience. If your pet feels queasy during the drive, you can use accessories such as the Ruffwear Dirtbag Car Seat Covers to make it easier to clean up any spills.
Having a pet is like taking care of child in some ways. You need to keep them fastened and secured while driving. If you need to secure your dog, try using a harness such as The Flamingo Pet Car Harness. It works much like a seatbelt.
In the event that you need to take a flight to or from your destination, you will need to consider using an IATA-approved carrier to place your pet in. Check out PetMate and Flamingo Aviation for more details on how to fly and pick the right carrier for your pet.
3. Consult your vet
Pay a visit to your pet's doctor to check if it's okay to bring your pet along. This is also a great time to make sure that your pet has all the needed vaccinations.
Pets make the perfect companion as they can make you laugh and have fun. You may be on vacation but you still need to be responsible for your animal companion. Following these tips can help you make the trip more fun for both you and your pet.
AUTHOR BIO
Farah Al-Khojai is the Managing Partner of Pet's Delight. A passionate entrepreneur, Farah holds a Bsc in Government from the London School of Economics. She is always on the lookout for new opportunities to develop and grow the pet and equestrian retail and wholesale market in the UAE and beyond, and is proud to be at the helm of the first and the largest pet care provider in the market representing world-class brands including Origen, Applaws, Hunter, Savic, Flamingo, Ruffwear and Rogz.