These days wooden pallets have many other functions aside from your usual haulage and pallet delivery of palletised goods. The world of DIY has taken pallet décor to a whole new level. They may look cheap and ugly, but they are useful, recyclable and cost-effective. Plus, with a keen eye and a little magic touch, they won't be ugly for long.
To start, you'll need the wooden pallets themselves. You can often buy them cheaply or even find them free from a hardware store or warehouse. Be sure to check the pallet for smells, stains or anything unusual that might cause damage or harm.
Believe it or not, you can use upcycled pallets for many uses all over your home. For example, flooring. Installing hardwood floors can be expensive, but using wooden pallets can be a cheaper alternative. Begin by separating the pallets and sanding until they are smooth. Stain them the colour of your choice and enjoy the new rustic feel to your home.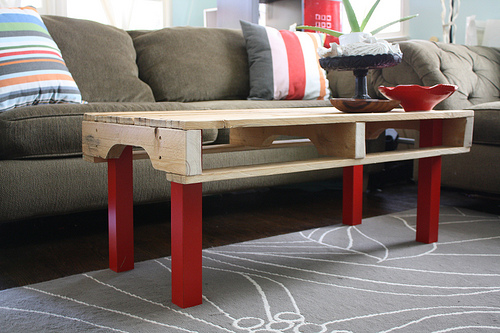 Spruce up your wall with a great accent piece made from a wooden pallet. Sand and whitewash the wooden pallet and add some rustic fixtures or shabby chic décor to utilise the whole piece.
Or if you're looking to change up your bedroom, a wooden pallet could do the trick. Like most home furniture, bed frames can be expensive. Save yourself the headache and stress and make your own. It's inexpensive and you can design it to suit your style. Sand the pallets, place them on the floor and put your mattress on top of the wooden pallets for an effortless and stylish design. Paint or leave them bare – both can look great.
Probably the most common way of upcycling pallets is with chairs and benches. Using pallets this way can create an ample seating at only a tiny cost. Sand them down and place colorful cushions and pillows to add some eye-catching flair to a beautifully simple space.
Wooden pallets are great for home improvement projects, especially when you are working on a budget. These DIY projects come at a minimal cost but with maximum style. Recycle your old pallets or find some to create the designer space you want.