Mobiles have taken over as the first point of contact for anything and everything. The convenience, the easy accessibility and also the affordability with which it brings information and facilities to our personal world is phenomenal.
If you are running a business that needs its online presence felt, mobile is no longer an option to consider, but a survival strategy to invest in.
If you are running a business that needs its online presence felt, investing in a mobile website is the best marketing strategy.
In today's article, we are exploring the growing importance of optimizing your mobile website for more business. The various advantages that it brings to the business and how you can lean on to it is what we are covering in this topic.
Now, there are two sides to it. One is having a mobile app and second is optimizing your website for mobile responsiveness. The second one is what we are covering today.
Let's get started.
#1 Massive Surge In Mobile Traffic
Good news. There has been an astonishing rise in mobile traffic in the past 5 years. In 2008, Mary Meeker, an Analyst with Kleiner Perkins Caufield Byers even forecasted that mobile traffic would overtake fixed Internet traffic by 2014.
In 2016, Two Mary Meeker's prediction came true. A global study on "Global Internet Usage" (October 2009 – October 2016) by StatCounter found that mobile and tablet Internet traffic accounted 51.3% compared to 48.7% from desktop devices.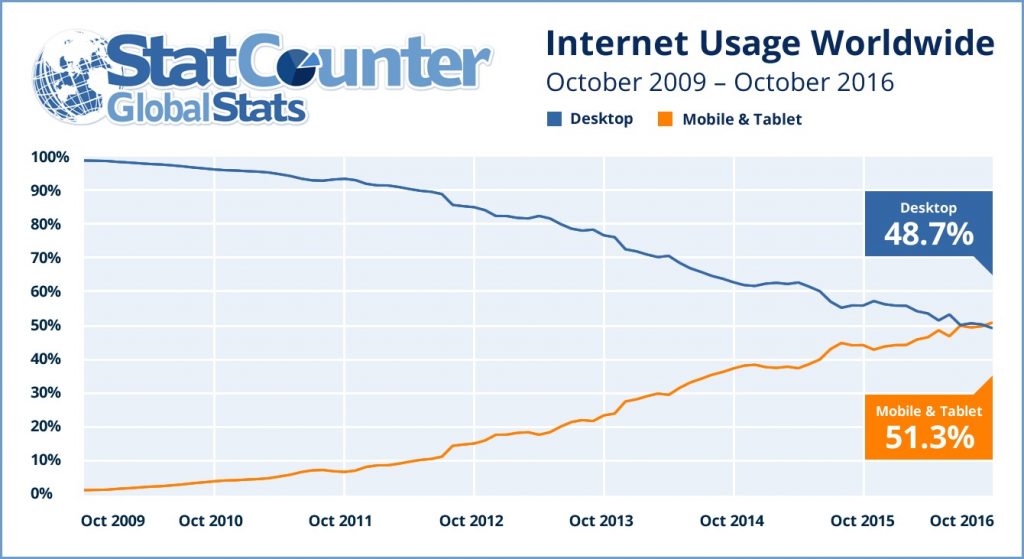 Moral of the story: More users (& customers) want to find a business online from their mobile devices. A mobile website is a straight road to reaching this customer.
#2 Security Prowess Makes Happy Users
Mobile security is in its nascent stages. Apart, from stolen devices and bricked devices, many instances of mobile hacking cases occurred like in desktops and laptops.
However, it is a time bomb awaiting explosion, if proper care is not taken. Hackers are sharpening their hacking skills to intercept information from naive users who submit sensitive information over the Internet to mobile websites.
As a mobile website owner, it is important for you to secure the site with an SSL certificate. There are many Certificate Authorities like a Positive SSL Certificate of Comodo support desktop, mobile & tablet browser that keep hackers from getting their hands into user data.
#3 Mobile Has A Search Engine Advantage
Since 2016. Google has been toying the concept of mobile-first indexing. In mobile-first indexing, Google plans to rank search results based on mobile content.
Now, that is such a bad news for websites that rely only on desktop-version websites. There are 3 ways desktop websites can migrate to a mobile-friendly version:
Responsive Web Design – where the website realigns itself perfectly to any screen dimension.
Responsive Content – that changes the way a mobile user interacts on the screen
Fast Loading Time – Consider providing best content along with instant loading to your mobile user. Because your website loading speed is also important in Google ranking.
All the 3 approaches can deliver a superior user experience. Superior UX translates into longer time spent on the website which makes a website more attractive to search engines, especially Google.
#4 Customers Demand Mobile Experience
This is 2017 and customers have an attention span that is lesser than a goldfish. If your website takes a bit long to load, or has an interface that won't respond dynamically or has nothing to delight your users, be prepared to lose them.
For instance, if you are an online store, the UI design elements need to be mobile optimized. Here is how Abercrombie & Fitch, a popular online store surprised its users with mobile elements: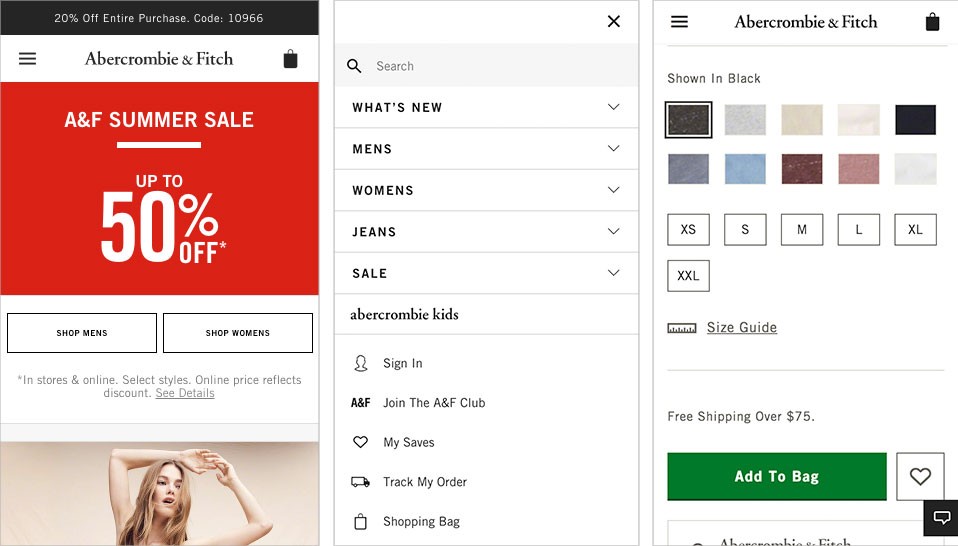 Do you notice? The banner for ongoing deal occupies a large portion of the mobile screen. No user will miss seeing that. Also, the drop-down menus are neatly spaced for ergonomic use, even on small screen devices. On the third screen, picking the sizes is made effortless by placing separate buttons for each size range. And, the green "Add to Bag" CTA finishes it style making the mobile website perfect sales funnel for Abercrombie & Fitch.
Now that is some kind of mobile experience you need to replicate for your mobile website.
#5 Rise of the Mobile-Commerce Trend
Shopping from couch now replaced with shopping with three taps on your mobile screen. Three taps! That is the most they needed today to buy something of your choice from a mobile store.
Today, at least 23% of online purchases is made from a mobile device. Amazon, Flipkart, eBay, Target, etc. are also rolling out special offers to increase their customer spending through mobile apps. Mobile apps are inexpensive and easier to maintain than an elaborate multi-page eCommerce website.
However, like I said in the beginning of the article, building a mobile app is a bank-draining affair. Optimizing your website for a mobile experience is less demanding on your bank.
Also, with features like mobile wallets and in-built loyalty schemes, you can retain your customers from being stolen by competitors.
Bringing It All Together
If you have a desktop website, you ought to have a mobile website. In today's mobile world, customers want to find information on the go and without having to search for mobile apps. Moreover, mobile apps are expensive. Chances are that you may not be able to afford to build one for your business from scratch.
A mobile website can act as a hook that will bait your mobile using customers and bring them directly to your website. Also, it imparts an SEO advantage that is not easily achievable in the desktop version. Not to miss mentioning the superior user experience that a mobile website renders to users.
Make sure your business is available on the mobile. Your customers will approve of it.