The popularity of guitar sounds is growing by leaps and bounds, and many people are pursuing a career in this field. A lot of people love performing concerts using a guitar. To cater to the varying needs of users, many brands provide a range of guitars. However, investing in a high-quality guitar could put a big dent in your wallet. If you wish to buy the best acoustic guitar under 2000, take into account the below mentioned models.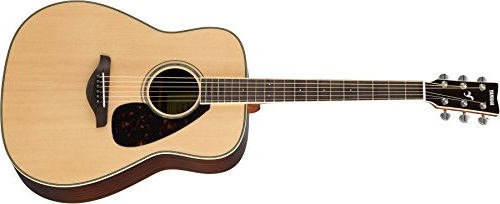 Martin D-16RGT
It is difficult to beat Martin in terms of a premium acoustic guitar. While the D-16RGT may not be their high-end model, it makes a perfect fit in the hands of any player. It is good-looking, offers smooth playability and presents lovely tones.
Made completely from solid wood, the overall quality you get from this acoustic guitar is overwhelming. The tone of the dreadnought is booming and big, but well-balanced and bright. Other features include solid hardware, a sleek satin finished neck and lots more.
Takamine EF360S-TT
Takamine, an innovative brand from Japan, has presented another high-end winner with the all-solid EF360S-TT. The top of the guitar made from solid spruce lets you produce rich vintage sounds. The model generates warm and fulfilling sounds while you play it.
Aside from the tone, the guitar features a cool vintage theme including the faux tortoiseshell pick-guard, ivoroid binding and open-geared tuners. The durable body ensures that the piece will last longer. With an amazing built, sleek design and rich tone, the model is a preferred choice of many guitarists of all levels.
Breedlove Oregon Concert CE
Crafted in the United States, the Breedlove's Concert CE is a worthy model to be considered for producing acoustic sounds. It has a bright tone and bold style to allure any enthusiast. With a cutaway body, the top is made from solid Sitka spruce while the back and sides of the unit are made from lesser-seen Myrtlewood.
The semi-gloss, slim neck along with its 20 fret African ebony fret board is certainly a pleasure to play for any guitarist, amateurs as well as professionals. Other additions include a nice hard shell case and L. R. Baggs electronics. With so many amazing features, it is no wonder why many players use this model for presenting mind blowing performances.
What to look for in an acoustic guitar?
Any acoustic guitar could serve the purpose of generating pleasing sounds. However, there are certain things that you should keep in mind when checking acoustic guitars. If you need help, here is a check list when browsing guitar brands.
Weight
It is likely that you may have to perform on a stage for a long time. If this is the case, you have to ensure that the model you are buying is not too heavy. A light-weight model will streamline your process of music creation while rendering comfort and convenience.
Durability
No one wishes to buy a guitar every now and then. Check the guitar body and construction material used in making the unit. Be sure that the item you are buying can withstand heavy duty usage and transportation.
Preamps and pickups
Electronics in any acoustic guitar let you amplify the guitar to an acoustic amp. Good preamps will provide more controls over your tone like feedback and resonance control. Make sure you check the guitar for this vital inclusion as they can impact your sounds to a great extent.
Warranty
A good quality guitar should be backed by a warranty. If anything goes wrong with the model within the warranty period, you can call the maker and have it fixed. Also, products backed by warranties tend to last longer without wear and tear every once in a while.
Closing thoughts
Investing in a top rated guitar need not be an expensive affair due to the existence of so many brands and price variety. Whether you are a professional guitarist or just starting out, you can have the right model today. All you need to do is check reputed brands in view of the above parameters. By paying heed to important points and wise comparison, you could bag the best acoustic guitar under $2000 and hit the music world for creating amazing sounds.