There are few things I love more than sleeping in on Saturday mornings and then fixing a delicious brunch. During the week, I often just settle for a granola bar or bowl of cereal before I rush out the door. But on the weekend, my creativity and cooking passion gets a chance to shine as I try new brunch recipes or create my own. If you're looking for some delicious new recipes to try on a leisurely Saturday morning, consider some of these options.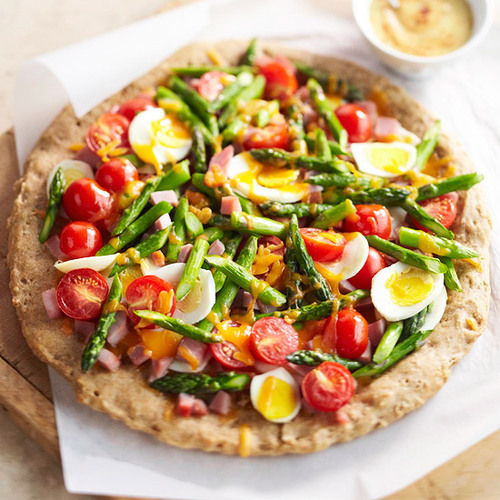 1.) Crepes
When I was in college, I would often visit a local crepe shop with my friends. Their strawberry Nutella crepe was my personal favorite. Imagine my delight when I discovered that making crepes at home is an easy process that anyone can master! Similar to pancakes, these thin, delicate crepes have become a cherished recipe. The best part is that you can easily customize them to fit each person's preference.
One person might prefer a savory crepe stuffed with spinach, mushrooms, and onions. Another might prefer raspberries and whipped cream. After making a batch of crepes, set up an assembly line of various ingredients so your guests can decide what they want to put on their crepes.
Ingredients:
2 large eggs
3/4 cup milk
1/2 cup water
1 cup flour
3 tablespoons butter, melted
1/8 teaspoon salt
1 tablespoon sugar
Instructions:
1.) Combine flour, sugar and salt. Set aside. Beat eggs slightly and add milk, water, and melted butter. Slowly add flour mixture to the beaten egg mixture. Pulse everything together in a blender for 10 to 20 seconds. Cover with a plastic wrap and let stand for 30 minutes.
2.) Heat a lightly oiled non-stick frying pan over medium high heat. Scoop the batter onto the pan. Rotate the pan to spread the batter evenly (Batter will be thin so it will spread by its own). Cook on both sides until the crepe bubbles and the bottom is lightly browned. Serve with your favorite filling.
2.) Monkey Bread
I've adored monkey bread ever since I was a kid. My mom would make this caramel, cinnamon tube bread for breakfast on the weekends. There was nothing better than a warm serving of monkey bread alongside a cold glass of milk. Thankfully, the recipe is so easy that you can make it in a matter of minutes. If you prefer a homemade dough recipe, try this one–it's my favorite!
Ingredients:
2 sticks butter, plus more for the pan
2 1/2 cups packed light-brown sugar
1 teaspoon ground cinnamon
2 (16-ounce) cans refrigerator biscuit dough (original or buttermilk)
1/2 cup heavy cream
Instructions:
1.) Preheat the oven to 350˚F. Butter a 10- to 12-cup Bundt pan; set aside.
2.) Put 1/2 cup brown sugar and the cinnamon in a re-sealable plastic bag; shake and knead the sugar mixture in the bag until combined.
3.) Separate the biscuit dough into individual biscuits. Tear each into 2 to 3 pieces and roll into balls. A few at a time, put dough balls in the bag with the cinnamon sugar and shake until coated; brush off any excess sugar and arrange in the prepared pan. Repeat with remaining dough balls.
4.) Bring the heavy cream, 2 sticks butter and remaining 2 cups brown sugar to a simmer in a saucepan over medium heat, stirring and/or whisking occasionally, until melted and combined.
5.) Pour half of the toffee sauce over the dough balls in the Bundt pan; save the remaining toffee sauce for serving. Bake the monkey bread until fluffy and golden, about 30 minutes. Remove from oven and invert onto a serving plate (if using a cake stand, set a plate underneath to catch any initial drips). Serve with remaining toffee sauce for drizzling and dipping (heated in the microwave, if needed).
3.) Spinach Quiche
If you're trying to get your family to eat healthier meals, here's one recipe they won't complain over. Bursting with cheesy goodness, this healthy quiche tastes so delicious they'll never guess it's actually good for them! I came across a similar recipe in my favorite cooking magazine, and changed it to suit my family's preferences.
Ingredients:
1 refrigerated pie pastry
4 turkey bacon strips, diced
1/4 cup chopped onion
1/4 cup chopped sweet red pepper
½ cup sliced mushrooms
1 package (10 ounces) frozen chopped spinach, thawed and squeezed dry
7 eggs
1/2 cup cottage cheese
1/4 cup shredded Swiss cheese
1/2 teaspoon dried oregano
1/4 teaspoon dried parsley flakes
1/4 teaspoon each salt, pepper and paprika
6 tablespoons sour cream
Instructions:
1.) Place pastry in a 9-in. pie plate. Trim pastry to 1/2 in. beyond edge of plate; flute edges. Line un-pricked pastry with a double thickness of heavy-duty foil.
2.) Bake at 450° for 8 minutes. Remove foil; bake 5 minutes longer. Cool on a wire rack. Reduce heat to 350°.
3.) In a small skillet, cook the bacon, onion, red pepper, and mushrooms until vegetables are tender; drain. Stir in spinach. Spoon spinach mixture into pastry.
4.) In a small bowl, combine the eggs, cottage cheese, Swiss cheese and seasonings; pour over spinach mixture.
5.) Bake for 35-40 minutes or until a knife inserted near the center comes out clean. Let stand for 10 minutes before cutting.
Kendra Smith is a food blogger who loves trying and creating new recipes. Breakfast is her favorite meal of the day, and she loves testing new recipes for it. Saturday brunch is one of her favorite times of the week.