Got a tiny bathroom that needs a makeover? Good interior design overcomes many of the head-aches a cramped bathroom presents. Read on for tips and tricks on transforming space-starved bathrooms into spa-style sanctuaries.
Why Focus on the Bathroom?
A great bathroom has the potential of adding real value to your home. Bathrooms are often said to be deal makers or breakers by Estate Agents in the know. One fantastic family bathroom will seduce many a viewer, and any additional en-suite bath or shower rooms will only add to their interest. After a show-stopper of a kitchen, the bathroom is the next in order of importance to home seekers. Even small bathrooms are seen as plus points, so if you want to get ahead in the race to sell your house, secure the services of the experts at www.fiveoaxbathroomplumbingandheating.co.uk who can design and fit any bathroom to any specification.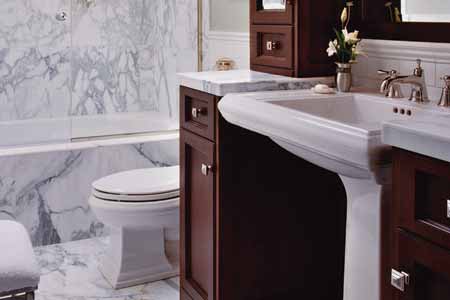 And if you aren't looking to move on, why not benefit from the joys of a stunning bathroom yourself? Gone are the days when the bathroom was simply a room to dash in and out of for the basic ablutions – contemporary bathrooms are all about lingering, relaxation and hedonism. Sound good to you? Then contact the friendly team at www.fiveoaxbathroomplumbingandheating.co.uk to discuss your dream bathroom.
Tiny and Terrific
A small bathroom can be just as fabulous as a large one, you just need to consider different aspects in the design process. There are benefits to being on the petite side, flooring and wall coverings will be required in lower quantities for a start. Smaller bathrooms tend to feel warmer, more cosy and intimate. En-suite bathrooms are generally smaller in size than standard affairs and the growth in popularity of multiple bathrooms means there are plenty of fittings and products to effect your plans.
Scale Matters
A small room demands sanitary-ware and fittings that suit the dimensions. An enormous tub in a tight space will be impractical and impact negatively on the functionality of the room. Compact sanitary ware designed specifically for smaller bathrooms is widely available. Suspended WCs, corner sinks, corner bathtubs and basins with vanity units below all help make maximum use of the space available. For irregularly shaped rooms or those with low ceilings, different solutions may be required. Walk in showers are popular for en-suite bathrooms and in many cases they are made to measure the space available. Choose sliding doors to make cramped spaces more user-friendly.
Light Levels
A small space opens up with the right lighting. If there is natural light, boost it by using interior wooden shutters that allow privacy and light control simultaneously. They are stylish and streamlined, easy to clean and moisture resistant. Placing mirrors opposite or adjacent to windows will bounce light around the room, and if you decorate with pale colours the roomy feeling is accentuated.
Serious Storage
Cluttered spaces feel smaller so plan plenty of storage in your bathroom. Underneath the bath and sink are two obvious places to stow items. If the ceilings are high, use shelving for towels and toiletries or corner units to take up some of the slack. A shelf above the door is ideal for items used occasionally. Keep an eye out for attractive baskets to store loo rolls and other essentials – these can be suspended if space allows. A slimline mirrored cabinet over the sink is a great place for storing toiletries as well as perfect for make-up application and shaving.
Decorative Touches
Bigger tiles and pale shades will grow the space, so select your materials wisely. Pale tile on the walls and a slightly darker flooring choice will smooth out edges and push visual boundaries. Translucent light shades and opaque glass accessories will suck less light out of the room. The go-to colour for trendy interiors this year is a luminous pastel pink. It looks wonderful contrasting with dark wood or tile and in small bathrooms it's a real knockout.
Towel Tips
Towels are always a small bathroom headache because they take up so much space. Heated towel rails in glittering chrome add contemporary dash to a bathroom and as they run up the walls, they don't eat into the room. You could also try fitting single rails in a row for hanging towels on the back of the bathroom door, rolling them up and storing them in baskets or suspending them from hooks on the underside of a shelf.
A well conceived small bathroom can be a joy to spend time in. If you are embarking on a make-over of this important room, take note of these tips to help get the results you deserve…