The Can Am Commander enjoys nearly a dozen aftermarket lift options, so whether or not you're looking for a few extra inches to add some larger tires or you're a racer or aggressive mud enthusiast, there are several options from reliable companies.  What is often overlooked are some of the other suspension components that make the Commander more heavy duty or otherwise improve the performance of the Commander's suspension.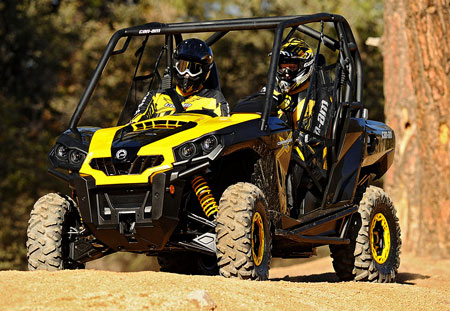 One of the most common modifications for Commanders and any UTV with a lift kit are heavy duty axles like those made by Rhino.  These axles are made using 4340 chromoly steel that create an excellent strength to weight ratio.  They are both stronger than other axles and are easy to use at huge angles which is the most common reason that the stock axles break in the first place.  These axles have larger than stock shafts and CVs, and they perform well under the stress of high-powered motors and larger tires.
The CX3 Can Am Commander mid travel suspension kit by Turnkey UTV boasts features not found on any other Can Am Commander lift kit available.  All of the a-arms are fully TIG welded 4130 chromoly boxed steel, adjustable front A-arms, and high rigidity delrin bushings.  The CX3 kit is covered by a lifetime warranty on the A-arms. The installation of the CX3 system to your Can Am Commander drastically increases the vehicle's ride quality, stability and handling. The kit increases your Commander's wheel travel to an amazing 14 inches, and also increases the wheel base of your Commander by 4 inches.  The kit makes higher speeds on rougher terrain more manageable, and with a wider stance of 6″ total or 3″ per side you increase vehicle stability on tighter turns.  The CX3 kit increases ground clearance to 12″ giving you the extra clearance needed. For these and nearly a dozen other lift kits, visit www.sbsparts.com.