From haunted neighborhoods to adult entertainment, Bangkok is globally famous for a lot of reasons, but due to that very fame and the constantly growing population of tourists, expats, and local businesses, exclusivity is generally not something that the average traveler associates the city with.
However, those that actually know Bangkok also know where to find exclusivity and posh hotels in the busy city. So, without further delay, let us now discuss a few places where you can stay if a luxurious and exclusive experience is what you are looking for, short of leaving the city and heading for a more remote section of the country.
Thonglor
If you are looking to stay in a part of Bangkok that isn't just exclusive and posh, but also offers excellent fine dining experiences, along with a high-class nightlife that sets it apart from most of the other districts in the city, Thonglor is where you should be trying to find a hotel. It might seem a bit exaggerated (and it certainly is), but Thonglor is at times compared to Beverly Hills due to the exclusivity and luxurious nature of the entire area.
Sukhumvit
Almost everyone has heard of Sukhumvit, whether they have actually been to Bangkok or not, but in spite of its popularity and some heavily populated areas with an active adult nightlife, Sukhumvit does have some of the most exclusive and luxurious areas in the city as well.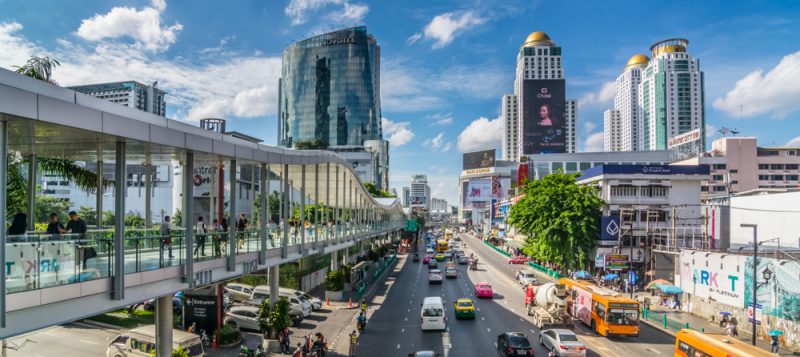 Perhaps what sets Sukhumvit apart from the rest of the areas on this list is that you can actually find a cheap hotel Sukhumvit near Emquartier Mall, without sacrificing on the staying experience. The S Box Sukhumvit Hotel happens to be located in one of the prime areas of the district, but the hotel is in one of those calm, gorgeous, and exclusive spots of Sukhumvit that manages to deliver a tasteful staying experience, without costing a fortune.
Phrom Phong
This luxurious residential portion of Bangkok is often called an enclave, due to the fact that it seems so different from the rest of the city. You will find a sense of community here and even if you don't decide to stay in Phrom Phong, it is recommended that you spend an evening in of the many beautiful and classy cafes located here. If you are more interested in a bar, there is no shortage of those either, because this is, after all, Bangkok we are talking about!
To say that these are the only three places where you will find exclusivity in Bangkok would be incorrect, but these are definitely going to be among the best options you have in the city. In case you are looking to have a real adventure in the remote sections of Thailand though, you will have to leave Bangkok behind for a while and head deeper into the country.