The bedroom shouldn't just be a place to collapse at the end of the day. We spend on average around a third of our lifetime in bed, shouldn't we at least be having the best time whilst we are there?
Take a look at your bedroom. Does it inspire you? Does it put a smile on your face? Make you feel like you just have to dive beneath the duvet right this minute?
If the answer to all these questions is a resounding 'No!' – we have some work to do.
Any bedroom, no matter how dull and lifeless, can be turned into a boudoir – it is all just a matter of attitude. The dictionary definitions of boudoir all sing from the same hymn sheet. A boudoir is basically a 'a private sitting room, dressing room or bedroom, beautifully decorated, used by a woman, suggestive of intimacy…'
So, we get the picture. A bedroom is a functional space where we go to sleep and rest. A boudoir is a colourful room where we go to dress, indulge in sensual pleasures and enjoy doing girly things… There's really no reason you can't have a bedroom that is a boudoir, and vice versa.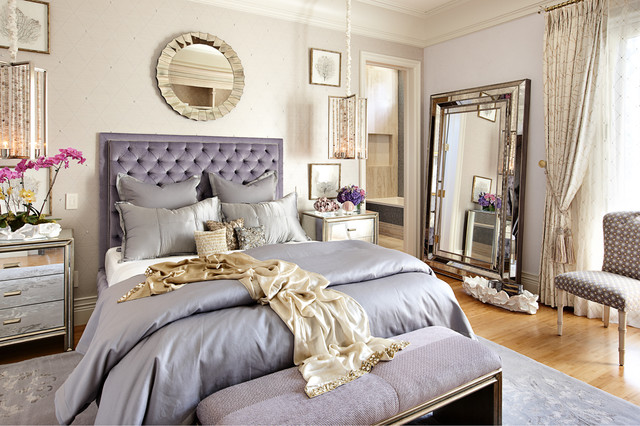 The word boudoir comes from the French verb bouder – meaning to sulk. Back in the times of King Louis XIV ladies would flounce off and sulk away for hours in their boudoirs, in fabulously French style – it is some measure of how important sulking was to French women that there was a room specifically earmarked for it. You've got to love and admire the French for their sulkiness and elevating stroppiness to an art form. However, in modern times it's not that we're sulking, we're just taking ourselves away in private to enjoy being alone in luxurious, feminine and comfortable surroundings. Honest.
Bold is Beautiful
The first rule of boudoir creation is be bold. There is no room for timid décor in a boudoir. Let's start with the colours, the deeper, hotter and more opulent the better. Scarlets, magentas, deep indigos and emeralds with counterpoints of gilt, burnished coppers and glowing golds all adhere to boudoir code. Create a womb-like feel with shades that close in, cerise was a popular hue, twinned with mint greens and silver. The palette is rich and varied, if in doubt be brash and brave, not tasteful and toned down.
Furniture Facts
Visit some antique auctions for vintage furnishings that can bring the boudoir into your bedroom. An ornately carved bedstead in Rococo style is a dramatic way to bring attention to the action station of the room. Alternatively, a four poster or canopy bed works equally well. Go to www.daalshome.co.uk to select suitably sumptuous linens and luxury high thread-count sheets to dress your bed. Boudoir textiles often depict botanic and floral subjects or Toile de Jouy style fabrics and at Daal's Home you'll find just the thing you're looking for.
You will need storage for all your fancy underwear so why not push the boat out and invest in a Lingerie Chest? This is a tall piece of carved wooden furniture with many drawers designed specifically for keeping your smalls in order. What more could a girl want?
Other furniture to give your room a little French polish include a chaise longue on which to recline whilst relaxing, sipping a chilled Martini, reading, watching Poldark etc., an ornately carved dressing table and matching chair with neatly turned legs, and an enormous wardrobe to store your many outfits. Boudoir furnishings are often a little on the fancy side with finely worked detailing. However, simpler pieces can work too, just dress them up a little with a lick of gold paint and sumptuous brocade upholstery.
Finishing Touches
A boudoir needs a large mirror as a focal point in the room. If you are lucky enough to have a fireplace, then a gilt framed mirror settled on the mantelpiece looks elegant. Alternatively, a large, full length mirror leant against the wall looks equally striking if it boasts an impressive frame.
Finally, for a nod to authenticity, pick up some antique accessories to place around the room. A pretty china wash-bowl and jug set on a stand adds a feminine touch and some auction-find oil paintings of unknown gentry or reclining nudes will emphasise the historic atmosphere in your room. Cushions, drapes, bolsters and footstools featuring sensual fabrics such as velvet, silk, satin and velour all help add to the indulgent feel you are aiming for.
After a long day at work, coming home to a boudoir rather than just a bedroom, is something to look forward to. Don't sulk about your boring bedroom for a moment longer – start transforming it now into the boudoir you deserve…