One key aspect of every hotel is the atmosphere. This can cause guests to immediately fall in love with a place or to turn away in disgust. There is no one single atmosphere which is the correct one for hotels, but clearly some are more successful than others.There are a number of different elements which define the atmosphere of a given hotel.
Make It Feel Like Home
USA Today reflects on the importance of making your hotel room feel like home here:http://www.usatoday.com/story/travel/hotels/2013/04/11/home-away-from-home-not-impossible-on-a-trip/2072037/ They point out two ways hotels today are doing this. The Residence Inn, which is geared toward guests staying on a long term basis, keep an onsite grocery store which can stock guests kitchen with whatever items they are most familiar with.
The Solamar Hotel in San Diego offers guests the option to send in a picture of their liking prior to their visit. Hotel Staff will frame it and have it waiting for the guest upon their arrival.
From a Designer perspective, this shows the importance of having guest rooms full of personal touches. Having items in the room which are realistic to a real home are important in creating a comfortable and relaxing atmosphere for their guests.
Form to the Times
When a guest comes to a hotel in 1990 and a guest comes in 2014, their needs are going to be somewhat different. Some of these changes will be cosmetic, and some will be more infrastructural. To create an inviting hotel atmosphere, the rooms must be visually consistent with current trends, as well as have all the infrastructural necessities.
Freshhome a Design and Architecture Blog points out some of the newest trends in hotel interior design http://freshome.com/2013/08/20/the-11-fastest-growing-trends-in-hotel-interior-design/ Some of these key points include creating lobbies which are multi-purpose, bathrooms with spa features, and creatin spaces which blur the line between being inside and outside.
When guests are traveling, they are likely to have been exposed to these trends. Additionally, older guests may remember trends from the past. One way to evoke the atmosphere of this decade, or some other decade is to evoke elements of the popular trends of the time.
Consistent Theme
One important element of hotel atmosphere is developing some clear themes. Too many contrasting colors, patterns, or shapes can evoke a sense of chaos and uncertainty in the audience. To create an inviting atmosphere, its necessary to make such theming choices consciously.
Freshome points out that the current trend in hotel design is to down play different patterns in favor of color and texture. Throughout history the elements of an interior's theme which are more or less important evolve. Select which elements you want to focus on and try finding pieces which are complimentary. These pieces do not necessarily have to match each other, but they ought to "go" together.
Color With Purpose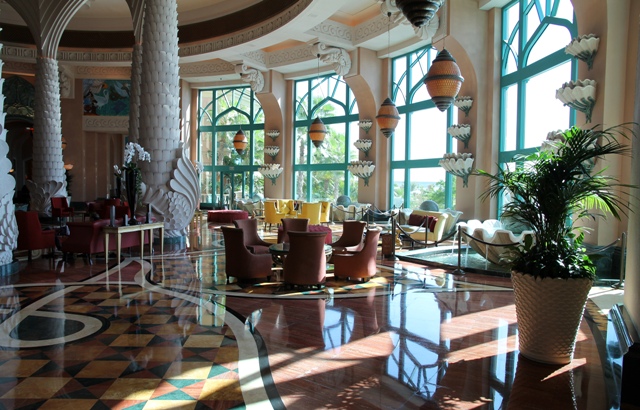 Colors can have a strong impact on our psychological makeup. They can also make a space feel wide open or incredibly closed in. Its essential to make conscious choices about color to compliment the target audience's tastes.
For example, the color blue is said to have a calming psychological effect on the human mind. In Japan, the government decided to incorporate blue into the metro system where citizens are known to experience high levels of stress. Mizuki Takahashi points out that human beings tend to associate the color blue with the sky and the ocean. You can read more about blue in the Japanese metro system here http://metro.co.uk/2009/11/04/japan-installs-anti-suicide-blue-lights-at-railway-platforms-532463/
The color blue may be a good choice for guest rooms where calm and relaxation is needed the most. Its important to recognize that colors can affect our psychological states. A good interior designer understands and incorporates this in his or her designs. One such design company is AKA Design Inc. Learn more here http://akadesigninc.com/
Memorable
In a given year, your guests may travel to a wide array of different hotels. If you are interested in making your hotel one which the guest goes home talking about, you'll need to focus on forming a strong positive memory. Freshome points out that one way hotels are achieving this today is through creating unique spaces.
For example, spaces centered around particular movie characters, lifestyles, or concepts such as modular hotels, are all ways to keep your guest speaking of your hotel for a long time to come. Each of these spaces have a distinct atmosphere which can stay in the mind of your guest.
Featured images:
License: Creative Commons image source
License: Creative Commons image source
This article was written by Louise W., a writer working out of the east coast. She is an avid interior design nut and loves figuring out why things that the rest of us barely notice make such an impact on us.