Almost all of us who spend most of their time on computer or on digital devices have come across a situation at least once or twice when we look for a file and it is nowhere found. Then we simply either believe the device got corrupt and we can't do anything (in case of unimportant files) or we drown ourselves in tension (in case of very important files). If the files are work related then to regain them we are ready to pay any amount because we don't want to listen to all those scolding, right?
Why to pay even a penny when you have completely free of cost ways?
We spend almost more than half of our day on computers but even for smallest problem we run to professionals. Let me tell you data recovery is not something which can't be dealt with without the help of professional or you have to have spent money on. With the help of data recovery software which are available all over the web you can get back lost files or documents and that too quickly. The software should be chosen as per the demands like sometimes you need hard drive recovery or USB recovery so choose accordingly. But, if you are looking for a complete package after which you do not need to install any other data recovery software then EaseUS is the best to go with.
I used "free software" as nothing is better than free version if you have no idea about its features and functionality. Spending blindly on data recovery software is like complete wastage of money. So, it is always better to go with free version and later on with paid ones. Here, EaseUS comes out to be a best option as it provides free version equally efficient like paid ones.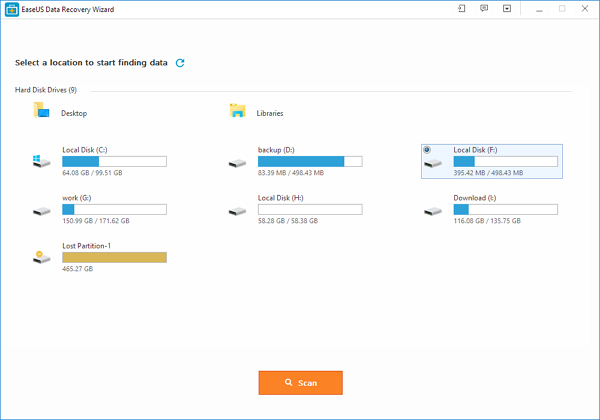 Before starting search for free data recovery software you need to figure out what you want from that software and on which device you want it to run. It is because all software may not work on every device like if you are looking for hard disk recovery then filter available software accordingly. This will help you to stick to what you need. Do not fall for the promising words of companies that ask you to pay even for trial versions because if they do not stand on your requirements then your money will be wasted.
After this, compare all the features of the chosen ones in order to land on the best. In features, you can look for the variety of scans they provide and the quality of the recovered files. With the file recovery its quality equally matters so choose the ones that offer high quality files. Then you can look for language support too if you are not comfortable with English. There is data recovery software that offers multiple language support example, EaseUS so that user can easily work with the software.