Italian food is one of the most loved cuisines across the world reason behind the popularity of this cuisine is the easy preparation of all the dishes. Pizza and pasta are among the most popular foods amid the people of all the ages. The first option people usually pick when out for a food party is either pizza or pasta. With so many variants available, these foods have been the first choice.
Speciality of Italian Cuisine
In the West, Italian cuisine is quite popular, every restaurant serves at least one Italian dish which can be different variants of pizza, spaghetti, pasta and much more. The best part about Italian food is that it is cooked with some of the really healthy ingredients like vegetables, fruits cereals, herbs, olive oil, and cheese. Among all the other vegetables, tomatoes are the most used ingredient. Not only pizza and pasta, the other most popular food is pie, which is an appetizer as well as a dessert.People get confused whether a pie is sweet or salty! Pie can be made in both the ways, salty as well as a dessert. Adding fruits with sugar and honey can bring some nice flavors to the regular pie and adding some herbs with vegetables can make it a delicious salty pie.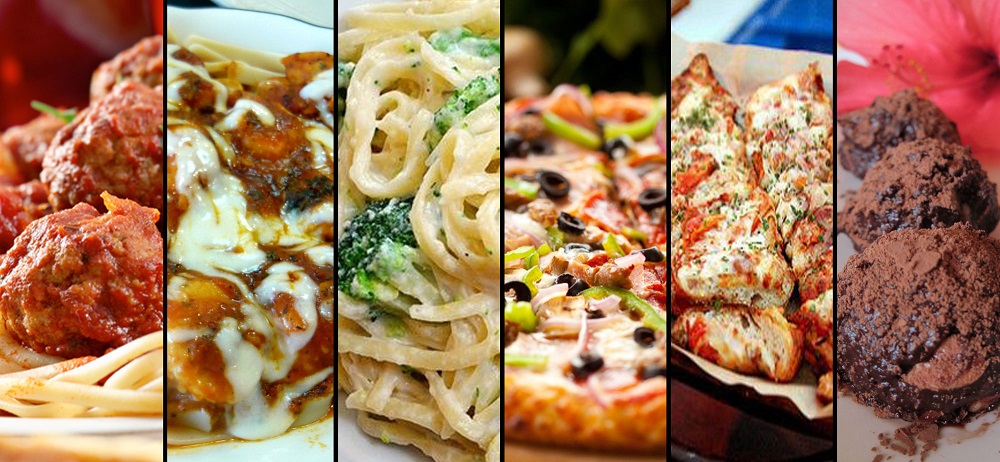 Italian cuisine
When we talk about a healthy meal that can be given to the kids, then all the mothers can rely on Italian food with a twist. Italian food is made by using a lot of vegetables and fruits in the main course as well as snacks.For example, if we talk about everyone's favourite dish pizza, then we can find a lot of variants in pizza; some of the variants include a lot of vegetables like zucchini, capsicum, carrot, onion, tomatoes and all of these vegetables are filled with high nutritional values and fibre and hence are important to be involved in regular diet.Not all junk food is bad to eat if cooked at home as one can add spices and herbs from one's own kitchen and give a new taste and style to this fashionable food.
Pasta is another most loved food that comes from the Italian cuisine.There are a lot of ways to make pasta, some love the white sauce pasta filled with lots of cheese and mayonnaise and the ones who love the spicy food can have red sauce pasta. Usually, the Italian food is less spicy but when the food recipe travels the world, every place adds something new to it; hence one dish can have numerous tastes. If someone asks how to make pasta with mayonnaise, a lot of people have all the different recipes to tell, hence who can cook it the way your family loves to eat. Pasta comes in various shapes and sizes; some love the spiral-shaped pasta and some like the noodle shape pasta, and this all depends on the choices. Adding mayonnaise with some mixed herbs makes pasta more delicious and tempting. Readymade pasta can be bought easily from any nearby store or supermarket. So give your taste buds a tickle with the yummy pasta.