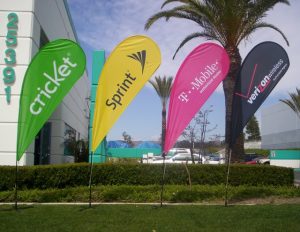 Every business owner encounters the same dilemma when it comes to promoting their business–how best to get the word out to potential customers. You want to increase your foot traffic, or drive-by traffic, but you don't want to clutter your storefront with billboards and flashing lights. However, the National Association of Advertisers has concluded that on-premises signage is the most effective form of advertising, besting newspaper, radio, or TV. On-site signage will increase foot traffic by up to fifty percent. Discovering the best way to get your message out in an ever-changing landscape of marketing is s consistent challenge. One of the best ways to show off what your business has to offer, what makes it unique, or to announce a sale, is to place a fashionable feather flag in front of your establishment. This graceful flag, shaped like a bird's feather, is becoming increasingly popular to businesses of all kinds. A quick look around any strip mall or town center will reveal the current popularity of these flags. Here are some reasons to consider using feather flags:
Why Use a Feather Flag?
These eye-catching flags are not obtrusive, but are highly effective at getting your message across. Being placed at the same level as your potential customers as they walk or drive by makes your message an intrinsic part of the landscape.
Their two-sided design allows your message to be seen by people both coming and going.
Feather flags are easy to purchase. There are many ready-made messages you can order and have within days, or you can create a custom flag in your company's colors and your company's message, using input from the feather flag company to make your message stand out.
Unlike a traditional flag, a feather flag's message is always open to view. A slight breeze makes the flag flutter, but is not needed to get your advertising across to the public.
These flags don't need any special tools in order to put them up. The kit comes with an anchor ground spike, a four-piece pole sleeve and the flag. There's also a weighted base you can interchange for indoor use.
Made in the United States, these flags are of the highest quality and made for long term outdoor use.
Flags are available in a variety of sizes.
Shake up your marketing program with on-site advertising in the form of feather flags.