Modern kitchens are very much different from the traditional kitchens. Today, you need many technically advanced and modern gadgets to make your time in kitchen comfortable and make your cooking faster and easy. Those who like to eat at home, small kitchen appliances make it very easy for you to enjoy homemade meals very easily in very less time. Apart from the major appliances such as microwave oven and refrigerator, the small kitchen appliances are also very useful and also take very less counter space in your kitchen.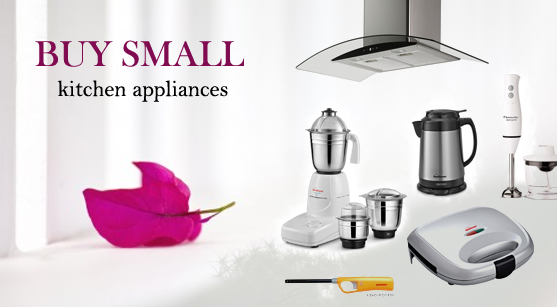 Toaster
The first small appliance that you will want in your kitchen is a toaster. Toasters are the best for those who like to enjoy their breakfast but they have to skip this important meal of the day due to lack of time. With a toaster, you can prepare tasty and delicious sandwiches and toasts for your breakfast in very less time without getting late for office. This is good for people who live alone or for working moms who have to prepare breakfast for whole family before leaving for work.
Hand Blender
A hand blender is a device that is very useful in kitchen for many small tasks. You need to whip cream, beat eggs for your omelette, or chop veggies for your salad, a hand blender can do it minutes. Additionally, it is very compact and can be stored in very low storage space and is a must have for any kitchen.
Electric Kettle
For those who love to have tea, they know that properly boiling water is necessary for a nice cup of tea. With an electric kettle in your kitchen, you cannot only boil water for your tea, but also for your coffee and noodles and other things. Electric kettle eliminates the need for an additional pot to boil water in your kitchen and hence save a lot of space. Electric kettles today are also very good for storing boiled water and keep them hot for a longer time. There are two versions of electric kettles available in the market- one is corded and other one is cordless and you can choose the one according to your preferences.
Juicer Mixer Grinder
In India, we love spicy food and there is nothing better than freshly ground spices. For that, you need a mixer grinder. The mixer grinder is a versatile appliance in your kitchen that can act as an assistant to you in kitchen while you are cooking. It can help you in doing many tasks at once such as mixing, grinding, chopping, slicing, etc with the help of its various attachments. The juicer along with mixer grinder gives you a chance to enjoy your healthy and tasty fruit juices that are freshly extracted and are best for your well being.
For best buy small kitchen appliances, you should look at online stores for the best range of products at the best prices
Author's Bio: The author is a professional chef and is working with appliancemart.in as a product advisor. Here his task is to help people in making better decisions regarding their purchase of kitchen appliances.