When you're looking to stay warm on those chilly winter nights, there's no better way than a natural comforter filled with wool. These comforters provide some healthy sleep benefits not found in a polyester comforter. Filled with wool? You might have thought all comforters were filled with down feathers. Educating yourself about the best organic wool comforter starts here.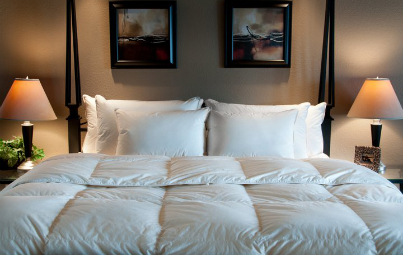 Why Wool?
When you're considering a comforter, you need to factor in its thermal warmth. That depends on the amount of fill used and how efficiently the fibers save and generate dry and comfortable warmth while you sleep. You've probably heard about wool's unsurpassed ability to absorb or wick away moisture while retaining body heat – one of the reasons wool socks are recommended for any sort of outdoor activity. Wool has the lowest thermal warmth when compared to silk, next, or down, with the highest thermal warmth. But wool has extreme flexibility and your organic wool comforter can be purchased in a variety of weights, depending on your environment and your own body's regulation system.
Why Organic?
 An organic wool comforter will provide you with the safest chemical free sleep available. Because the fibers stay so dry, they are also a natural deterrent for dust mites, molds and mildew that can contribute to pesky allergic reactions.
 What Weight Do I Need?
 Fill weight refers to the amount of fiber used to fill the comforter, and is generally used as a guide to warmth. The more fill, the warmer and heavier the comforter will be. If you tend to run on the warm side, you might want to choose a summer weight organic wool comforter. Depending on size, these generally run from a little over two pounds for a twin to almost four pounds for a king size.
If your body temperature tends to run on the cold side, your best organic wool comforter choice would be an all-season comforter. These fill weights are heavier than the summer version, with a twin running about three and ½ pounds and a king coming in at around six pounds.
In manufacturing, the comforters are made of fluffed wool batting arranged in layers and loaded into a cotton cover. This cover is then stitched by hand through each layer often in a square pattern. This prevents the fibers from shifting. The loft of a wool-filled comforter will also be less puffy than those made with other fibers.
For that "sleep-of-the-dead" night's sleep, look for the best organic wool comforter. You'll wake up pounding your chest like Tarzan, boasting to your friends you've just gotten the best night's sleep EVER and are ready to Take On The Day!