It is quite interesting to see how a deserted and colourless place like Rajasthan can be filled with so many colours. However, it is not only interesting but also, a matter of fact that Rajasthan comes out to be one of the most colourful states of India! Indeed, one can find these colours in the headgear and dresses worn by the local people of the land. Amidst the vast Thar Desert which is spread in thousands of acres all over the land and the "Keekar" trees all around; it is these bright shining dresses which add beauty to this place.
Ever wondered from where these colours come from? It's a process called Tie and Dye or Bandhini in which plain white colour clothes are dyed to convert into a colourful dress. These colours are added sometimes only to a section, sometimes to half of it and sometimes different sections. All of these, when mixed up, give an altogether unique print to the cloth. This work is done on cotton, silk as well as woollen cloths.
Just like Tie and Dye; Bandhej too is a popular technique to add colour to simple off shades. This method is used on muslin, handloom or silk cloth. In this method starch, colours and ordinary threads are used to come out with the finished material.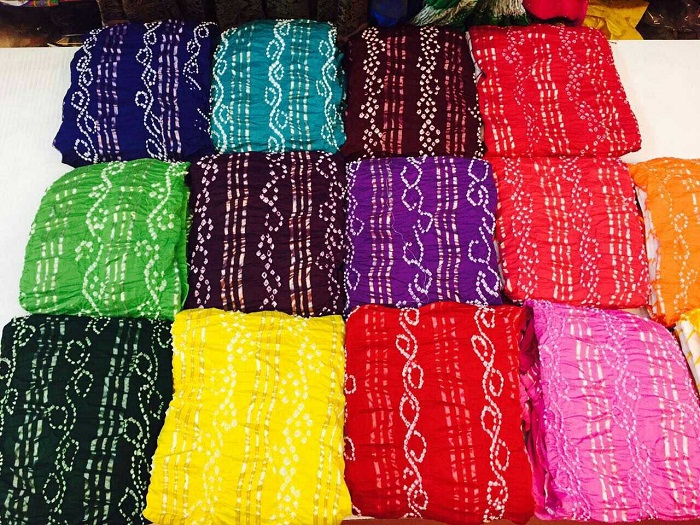 A lot of this work can be seen in traditional Rajasthani dresses comprising of long skirts and a short top called lehenga and chaniya choli. Different shades and often a combination of striking colours add beauty to these dresses. In men; one can see the striking red and orangish colours adding beauty to the off – white "Dhoti Kurta" of the local men.
Most interestingly there are 16 Dye and Tie techniques presently used. While making these vibrant colours the basic colours which are used include red, purple, orange, blue, green and yellow. Some of the techniques used are Crumple Tie technique, Shibori Tie Dye technique, Sunburst Tie Dye technique, Stripes Tie Dye technique, Spiral Tie Dye technique, One colour Spiral Tie Dye technique, Bullseye Tie-Dye technique, Folded Tie Dye technique, Diamond Pattern Folded Tie Dye technique, Accordion Folded Stripe Pattern Tie Dye technique, Box Pattern Tie Dye technique, Banded Box Pattern Folded Stripe Tie Dye technique and Simple folded pattern Dye technique.
This work which is more than 5000 years old (originally meaning "to tie") is today used on cotton, chiffon, georgette, satin and silk cloth. This work is also called Bandhej, Piliya, Chundgidi including old techniques like Mothra, Ekdali and Shikari depending on the manner in which cloth is coloured or dyed. Initially, this technique started as leheriya in regions like Kutch. However, today this work can be seen in places like Jodhpur, Sikar, Udaipur, Jaipur, Pali and Barmer. This time-consuming work involves area to be dyed outlined with temporary colours. After this, a thin plastic sheet with holes is spread over the cloth. The craftsmen then pull the holes and tie them with a knot. After the knots are tied, cloth is washed and dipped in naphthol for five minutes. Then the cloth is again dyed in a light colour for 2 minutes. Then, the cloth is rinsed and dried, again tied and dipped a dark colour. The cloth is then washed and dried for the final finish. The final product is often called Ghar chola or Patori.
Tie and Dye which is also called Bandhani work can be best seen in cities like Jaipur – The Pink City, Jaisalmer, Barmer and Jodhpur. All these destinations are just the place where you can see with your own eyes how tie and dye is carried out. This seemingly easy yet complicated task can be very well experienced in these cities of Rajasthan.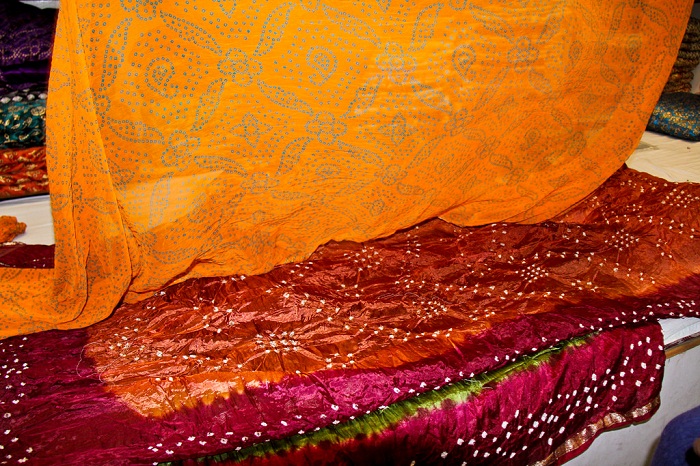 Despite the complications, this task involves; Bandhej work can be easily found in the local market. Skirts, tops, lehengas, headgears or turbans, scarfs, wraps n rolls, saris, odhnis, and handkerchiefs and so on. Striking and contrasting colours like the peacock, blood red, apple green and turquoise blue are some of the most used colours. Other colours which add beauty include yellow, brown and black.
For a better know how of this very old and important art of Rajasthan; one ought to visit this land of the desert! You can reach Rajasthan by Road, By Air or By Train. If you want luxury then Luxury Trains are available to reach Rajasthan. Maharaja Express Train and Palace on Wheels are the two popular trains which will take you to the desert state Rajasthan.