As all of you might know about that wrinkles are considered as one of the most common signs of aging that is hard to be avoidable. Recently, people, especially women, tend to get rid of wrinkles by applying different methods, including lasers or chemical peels. However, they are expensive and can only lessen the appearance.
Wrinkles happen as a part of the aging process as the elastin and collagen in the connective tissue in the skin are weak or destroyed owing to the changes of fibroblasts which form the elastin and collagen.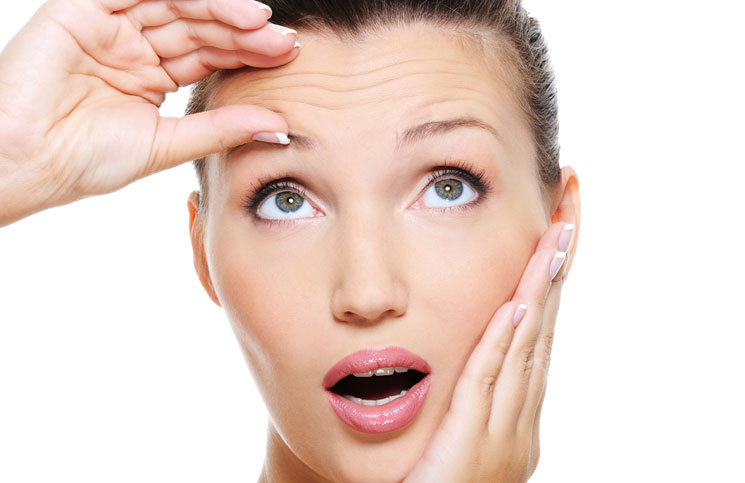 Here are some well-known contributors to this issue that should be taken into consideration:
Exposure to the sunlight or some harsh environments
Stress
Weight loss
Vitamin E deficiency
Smoking
Genetic predisposition
Before those unpleasant wrinkles can ruin your beauty, treat them first. Wrinkles can be effectively removed by the help of some natural and successful home remedies.
Olive Oil
One of the most incredible home remedies for wrinkles is olive oil. The oil benefits your skin in so many ways thanks to its high level of antioxidants such as vitamin E and A, which becomes great in damaging free radicals.
How to apply:
Rub olive oil over your skin area and massage it well
When the oil goes deeply into your skin, it offers the long lasting protection and of course keeps your skin staying moisturized.
Alternatively,
Add several drops of honey to some drops of olive oil as well as glycerin
Rub the solution in to your skin and massage it two times per day
The treatment is believed to remove dead cells and tighten your sagged skin
Aloe Vera
When it comes to skin treatments, don't forget Aloe Vera.  The plant is loaded with malic acid that enables to eliminate wrinkles just by strengthening the skin elasticity.
How to apply:
Prepare an aloe vera leaf and have it cut to extract the gel
Rub the gel over your skin and keep it on 20 minutes
Rinse it off with warm water
Ginger
Ginger works effectively as an anti-wrinkles cure thanks to its risk source of antioxidant properties. Also, it aids in stopping the destruction of elastin, which is known as among the major contributors to fine lines and wrinkles.
How to apply:
Add some grated ginger to a teaspoon of honey
Consume the mixture each morning
Or, you can opt for sipping ginger tea two times on a daily basis.
Bananas
If you love bananas, then, you should not ignore its impressive health benefit. The fruit is a god source of vitamins, antioxidants and minerals that helps battle the causes of fine lines and wrinkles. Applying the treatment two times weekly can rejuvenate the skin and get rid of wrinkles efficiently.
How to apply:
Prepare two bananas and have them mashed into a paste
Rub the paste over the affected area
Keep it for at least 30 minutes and rinse it off with warm water
Alternatively,
Mix mashed banana with avocado and honey
Slather it over the skin and leave it on for about 30 minutes before washing it off
Fenugreek
Another excellent home treatment for wrinkles is fenugreek. The hidden secret comes from its seeds, leaves and even the oil that can serves as an antidote for various skin problems, including skin tags and wrinkles. The leaves are good source of minerals and vitamins which get absorbed into the body easily; hence treating wrinkles. If you can follow the treatment regularly, it can bring about positive outcomes.
How to apply:
Prepare fenugreek leaves and have them grinded to create a paste
Rub the paste over the face and keep it for overnight
Rinse it off with warm water next morning
Alternatively, you can rinse your face with boiling water with the seeds and then rub the oil over the wrinkles as well as fine lines.
Almonds
If you are still seeking top natural wrinkles treatment, go for almonds. Almonds have a good source of vitamin E, calcium, zinc, folic acid. All of them combine to help delay and inhibit the development of aging process as well as cure wrinkles.
How to apply:
Dip several almonds into milk and leave it overnight
Remove your skin and have the almonds grinded to create a paste next morning
Rub the paste over your skin and under the eyes to help get rid of blackeyes or dark circles
Wait for 30 minutes and wash it off with warm water
Perform the treatment daily
Or, just simply massage the oil over the skin to stop the aging effects.
About the Author:
About the Author:
This article is written by Ashley Bennet, a co-owner of AuthorityRemedies. She has worked and trained in the field of Nutrition and Health for over 3 years, consistently providing people with useful information about nutrition as well as helping them with their common health problems.