Finding a catering company is easy – finding the best catering company on the market for any given event is quite to the contrary. According to the experts at www.cameomarqueehire.co.uk, the fact that there have never been so many catering companies in business across the country is both a blessing and a curse at the same time. On the positive side, quality standards are increasing all the time and prices are continually plummeting. On the negative side, it's becoming increasingly difficult to pinpoint the precise catering company that's right for your event, while at the same time sidestepping dodgy dealers.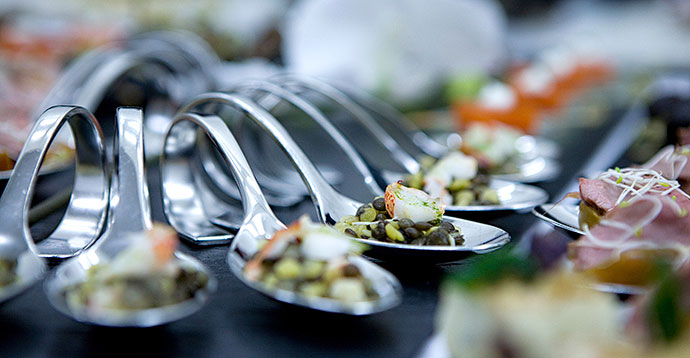 Still, it is in fact perfectly possible to ensure that the catering team you hire is in fact the best team for the job – it's simply a case of being proactive about the search process. So for those who are looking to organise an event in the near future and are yet to secure a booking with the catering company, here is a quick overview of a few important tips for making the best possible choice:
1 – Insist on Samples
First up, it's almost unheard of for quality catering companies not to offer as many samples of their food as necessary, in order to win over potential clients. In the rare instances where samples are off the menu, this generally means that the catering company isn't exactly proud of what it produces or is in some respect only interested in cutting corners and saving money. Suffice to say, in both such instances this is far from the kind of catering company you probably want to do business with.
2 – Preparation Method
For obvious reasons, the majority of preparation work will be done by the catering company ahead of time. However, it is still important to question whether the dishes to be served will be finished and prepped for serving on-site, or cooked ahead of time and kept warm. The reason being that the latter of the two will almost always impact quality, consistency and presentation, so it's a good idea to question preparation methods rather than simply making assumptions.
3 – View Portfolios
Something to remember when checking the portfolio of any given catering company is that there's often a big difference between the cosmetically-enhanced examples of the food showcased online and the actual food provided for clients.  As such, along with taking into account what you see on their website, you might also want to request photographs of their food in place at past events they've previously catered. Not only does this allow you to see exactly how closely the food resembles the images presented online, but also check things like the overall presentation, the kind of crockery/hardware they use and so on.
4 – Seek References
Speaking of past clients, any catering company that has been in business for some time should have a relatively long list of past clients and success stories to share.  It's one thing for them to tell you about past successes, but it's something else entirely for their clients to sing their praises on their behalf. Online feedback can be enormously helpful, but you might also want to think about asking to be put directly in touch with one or more of their past clients to speak to them personally about how they perform. If the company is indeed proud of its performance, this shouldn't be too much to ask.
5 – Guaranteed Prices
Under no circumstances should you ever agree to a catering deal wherein the price may be subject to change at any time without any specific notice. This again is comparatively rare, as the vast majority of quality service providers guarantee their package prices ahead of time. Nevertheless, there will always be those who choose to add on various additional surcharges at a later time, which can considerably increase the overall price of the package taken.
6 – Specialism
A quick check, but an important check nonetheless, if it is a wedding for example, you are looking to cater, you might want to choose a catering company with plenty of experience in weddings. And the same of course goes for all types of events – the demands of every event type are somewhat different, so it is a good idea to work with those who are familiar with your requirements.
7 – Special Requirements
Last but not least, it is about the absolute utmost importance to ensure that the catering company you work with is one that fully acknowledges and respects special dietary requirements. These days, it isn't enough to simply pay something of a 'passing nod' to specific dietary needs with lackluster and unimaginative alternative meals/dishes. Instead, every single person in attendance requiring any kind of alternative meal will expect and indeed deserves a meal just as high in quality and attention to detail as everyone else. So before going ahead, speak to your prospective provider about special requirements and see what the company's attitude to specific dietary needs really is.