A wedding marquee is a wonderful idea for your big day. It lets in lots of fresh air, light and with the right decoration and planning, will look absolutely stunning. However, there are a few challenges you will need to plan for if you want your event to run as smoothly as possible. Here are a few tips to help you get your wedding marquee right:
What Type Of Marquee Should You Hire?
The very first step will be choosing the type of marquee you want to hire. Marquees come in all shapes and sizes, from rustic looking tipis to traditional marquees, to large dome like framed marquees. The style of your wedding will have some impact on the type you choose, as well as the location of your wedding. If you're holding your reception on a concreted area, traditional marquees will not be an option as they use guide ropes to hold them up. You may want a very open marquee, or a marquee with windows and doors. You'll have to think about the type of tables you want, and the type of features you want inside. The best marquee hire companies will be able to listen to your ideas and help you choose the right shape for your occasion.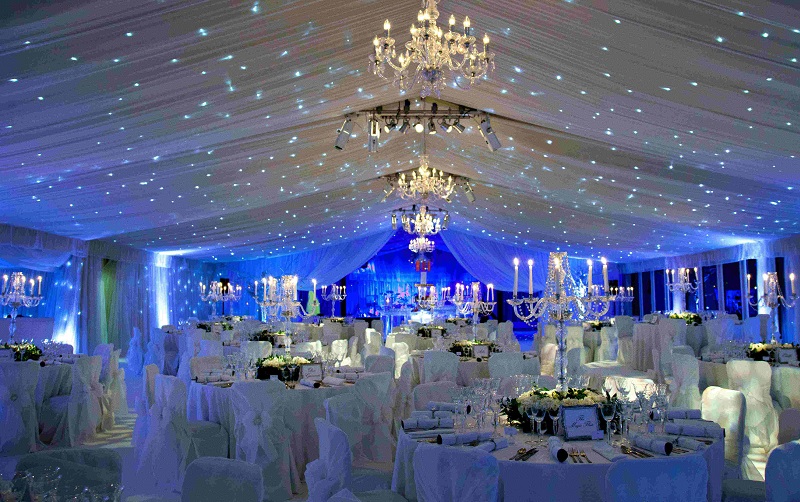 Wedding Planner Or Help From Friends And Family?
At the very beginning of your planning stage you will need to think about whether you are going it alone or hiring a wedding planner. Hiring a wedding planner means you have help decorating your marquee, sourcing a good hire company and much much more. However, if you have a strong network of friends and family and consider yourself to be well organised, going it alone will be cheaper if you don't mind getting stuck in and calling in a few favours. Just remember to be kind to those helping you and spend a little money on some thank you bouquets at the end to let people know how much you appreciate their help.
Where Will All The Cars Go?
Parking and car access is really important. Not only will some of your guests more than likely require a lift to the marquee itself, but you're not going to want to be walking miles in your stunning wedding dress either. Suppliers will also need close access to the marquee to drop off decorations, food and equipment. If you can't park right next to the marquee, consider setting up a hard walkway with wooden palettes so that everyone avoids muddy feet and stilettos sticking in the grass! You should also set up signs directing guests to parking areas as well as lighting next to those signs for when it gets dark.
Loo's and Electrics
If there's something every wedding marquee needs, it's toilets. The marquee hire company will offer you mobile toilets, but you should ask to view these or see pictures of them before accepting as they may not be as modern as you might like. There are some really attractive modern portable toilets available now, so if you have a large number of guests attending it might be worth spending a bit extra and getting some posh loos. You will also need electrics for your marquee which will come in the form of a generator. Ask every supplier how much power they require, which should help you gain an understanding of the size of generator you need. And don't forget someone will need to set all the electrics up. This is one area where you shouldn't try to save money, hire a professional to set the cables up properly so that the electrical set up is as safe as possible.
Can All Your Suppliers Get Their Deliveries In
Suppliers might well be able to park up near the marquee, but can they get all their equipment and products in? You may also struggle with having several suppliers turning up at the same time, which is a problem if they arrive in large vehicles that need room to manoeuvre. Ask each supplier how much room they need to deliver their goods and if you have a lot of large vehicles delivering to the marquee on the morning of the wedding, allocate time slots to each company to avoid a mini traffic jam and vehicles getting stuck.
Food
The company supplying your food will need access to running water, which can be achieved via a hose connected to the tent. They will also require a certain amount of room to cater properly, so check their minimum operating size before choosing the marquee size.
Tables Matter
The tables at your reception really matter, they are the first thing people will notice when they enter your marquee. Round tables always look lovely, but don't feel you have to use that style if you want something different. Rustic weddings are a huge trend this year, which means it's OK to embrace quirky mismatched pieces, long raw banquet style tables or even brightly painted picnic benches.
Look Up
Don't forget to avoid the trap of only decorating at eye level or below. You have invested in wedding marquee hire London, which means you have tons of space to play with. So look up and think about all the ceiling space you have to play with. You could hang sweet fairy lights, paper airplanes, driftwood art or even large drapes.
Lighting Is A Priority
The lighting in your marquee is really important after sunset when it gets dark. Lighting will not only provide a safe environment, but an atmospheric one. Think about all the areas your wedding party and suppliers will be, and ensure there is adequate lighting there.