It has to be said that any city that resides in British Columbia and has the ocean on its doorstep is going to be somewhat popular and as Vancouver is such an amazing place to live it's also the 4th busiest in the whole of North America.
Crowds aside and you'll find that Vancouver is jam-packed with things to do for visitors and if you've got plans to make the transition and move here for real then there really are untold reasons to do just that.
No matter what brings you to the 'left coast' one thing is for sure, you'll never be stuck for ways to spend your day and if you want to know more then check out the selection of ideas below or visit for yourself to find out what all the fuss is about.
Historic Gastown
Situated adjacent to the downtown district and featuring plenty of cobbled streets and historic monuments, basically, if you're looking to find out more about the history of Vancouver then this is where you head to first. Aside from the heritage trails and most famous city landmark (the old steam clock), Gastown is a great place to come to shop and pass the time with numerous independent art galleries and designer boutiques more than contemplating the cultural ambience.
Artistic Leanings
Vancouver locals like nothing better than a Sunday morning coffee followed by a trip to the art gallery and as they have a choice of small independent exhibits as well as two heavyweights (the VAG and the CAG) there's nothing the rain can do to dampen their spirits. In fact, a grey day on the coast is just right for taking shelter in a gallery and if you fancy doing the same then you'll be treated to numerous permanent and temporary pieces that will no doubt brighten your day.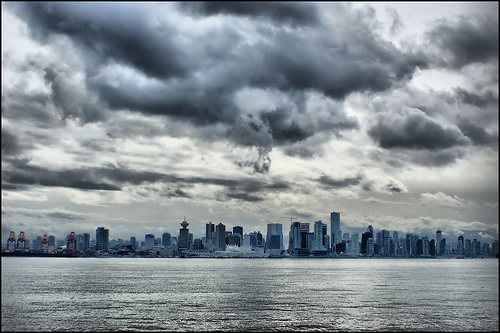 Action After Dark
Gastown, Granville and Davie Village are where things start to happen when the sun goes down and if you're looking for live music of any genre then keep your ears open and check out local listings for who's on where. Clubs and bars tend to open late, especially at the weekends, and if you've got plans to dance 'till dawn then there's no excuses for doing just that. From punk rock to jazz fusion, whatever you're into, Vancouver's alive and buzzing after dark.
Awesome Outdoors
You don't have to go far to get a taste of life outdoors in Vancouver and no trip is complete without at least a stroll through Stanley Park or a visit to any one of the city's English Bay beaches. If you fancy exploring further afield then the North Shore Mountains, that lie around 30 miles away from downtown, are packed full of hiking trails and mountain bike routes whilst melt water rivers provide plenty of adrenaline-fuelled moments for white-water rafting so get out there and have fun. Top tip: for more info on great ways to spend your time in and around Vancouver check out a few online companies, such as: Grand American Adventures.
Pro Sports Teams
All manner of established (ice hockey) and relatively new (lacrosse) sports teams reside in Vancouver and if you're thinking about taking in a game whilst you're over then this is where you really get to see the locals doing what they love best. This is the home of the BC Lions (CFL), the Canucks (NHL) and the Whitecaps (MLS) so if you're hankering for some live sports action then you know where to head to come match day.
Greenest City in the World
This is not a title that Vancouver covets lightly and with an aim to focus efforts on becoming the most sustainable city on the planet by 2020, it's all hands to the pump where green power is concerned. There can't be any better reason to visit or live in Vancouver other than such a worthy initiative as from eco-sector jobs to reducing carbon footprints, this is all about creating an amazing space for generations to come which is something that we could all do with paying heed to.
Chris is a huge fan of Vancouver and can't wait to check out the Canucks next time he's in town.