Bored of wearing the same t-shirt over and over again? Not anymore. We present you with unique and easy ideas to spruce up your t-shirt game. Follow these easy style tips and make heads turn.
T-shirts are the quintessential wardrobe item. If you think they're merely for wearing along with your pajamas, then you're absolutely wsrong. Here, we give you 8 awesome t shirt styles for women to rock your basic graphic t-shirt.
Wear it like a Blouse
Put a fresh spin on the most classic item in your wardrobe. Pair them with a pair of shorts thrown over a pair of tights. Add in knee-high boots, a cropped jacket and people will forget that you're wearing a basic tee. This style is perfect in a short t shirt for women.
Make your Tee dress down an Over the top Outfit
There is a fine line between glamorous and gaudy. You can dress down an edgy outfit by pairing it with printed women's t shirts. Leather leggings, chunky gold jewels, peep-toe booties and a dressy blazer, when paired with a simple white printed tee, make you look totally hip and cool.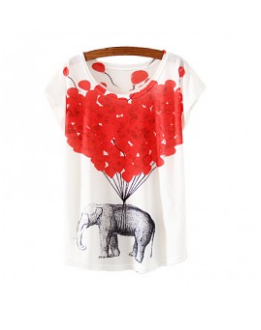 Go in for a fresh look with cute, artsy printed tees
You can swap out your same old, boring look just by choosing a funky, printed graphic tee instead of a plain one. Pair them with your favourite pair of jeans and coolers and you're all set to rock your college wear.
Go in for Wordy
Yes, we agree that there are several slogan tees that are too hard to resist. But the mantra here is to keep them simple and short. Choose tees that have the words printed big.
Highlight your Makeup with a Solid tee
Make your bold lipstick and eyeshadow stand out by wearing a neutral coloured tee and jeans. You can even add in a pair of bright coloured booties to further chic up your look.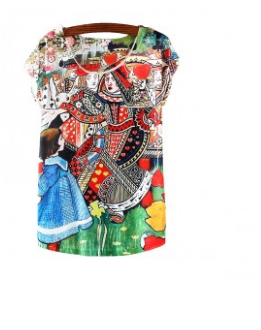 Show Your Support
Your t-shirt can be more than your style statement. Show off your support for a cause that's close to your heart by wearing t shirts that have the logo or the slogan of the cause you're supporting. Make a strong style statement literally.
Add in Statement Jewellery
Throw in chunky neckwear or danglers with your favourite printed tee, to give a chic, retro look. The key here is not to go overboard. Keep it minimal. Focus on just a single piece of jewellery. If you're opting for a clunky necklace, then skip the danglers and vice versa.
Borrow from your boyfriend
Men's shirt thrown over a printed t shirt is a style that's classy and timeless. Soften up the look by carrying a girly clutch or adding in sexy heels.
If you're looking for places online to get artsy, abstract and cool printed t shirts for women, then Zurova is the place to shop. With a wide array of styles and plenty of choices and sizes, you're sure to be spoilt for choice.