Lord Shiva happens to be one of the main deities of Hindu religion and Hindus from all over the world have lots of devotional feeling for him. People are too much devoted to him so that they could seek his blessings. Some of the holiest shrines of Lord Shiva in India are Jyotirlinga temple at Nashik, Varanasi, Rameshwaram and Ujjain and many other such locations. Mahamritunjay jaap puja is considered as one of the auspicious ceremony by Hindus.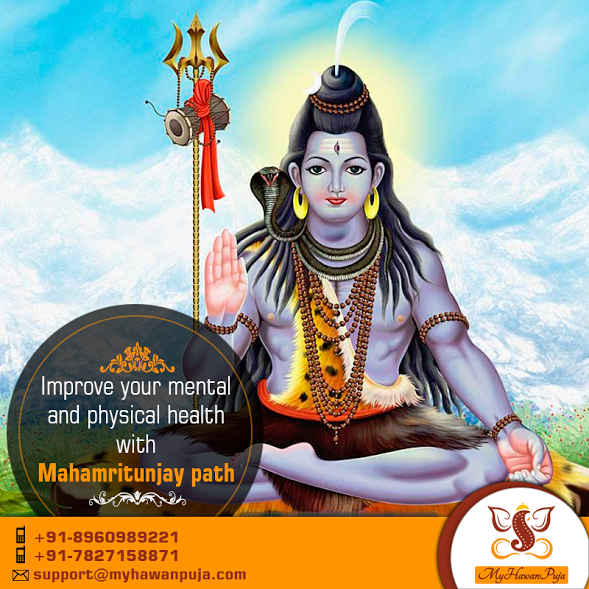 The devotees basically aim to visit these Jyotirlinga so that they could perform poojas at all these auspicious locations which are well known all over the world. But at times because of hectic schedule of our life and numerous responsibilities we do not get a chance to go to these places so this pooja could be done at home also. Offering puja is a part of daily ritual of a person. Mahamritunjay jaap puja is one of the most important puja of lord Shiva and it has got numerous benefits.
Benefits of Mahamritunjay jaap puja:
Mahamritunjay jaap mantra is chanted for getting a healthy and long life; it also helps getting rid of prolonged sickness. It is done to get the divine grace and blessings from Lord Shiva. It also helps getting relief from troubles of life; stress and ego all are removed from your life. This puja also has to ability to lengthen your life span and it saves the devotee from all the life threatening ailments.
You can easily perform this puja at your home as well. All you need to do is to follow the correct set of rituals.
Items required for Mahamritunjay jaap puja are:
Ghee
Curd
Gangajal
White cloth
Cow Milk
Sugar
Honey
Sacred threat known as Janeu
Tulsi
Bhang
Betel Nuts
Bel leaves
Sandalwood Paste
Dhatura
Rice
Incense
Lamp
Fruits
Flowers
Sweets
Roli
White thread
Sacred thread etc.
How it is carried out:
You will have to chant the mahamrityunjay jaap mantra of Lord Shiva 108 times with the jaap mala
You will then have to offer flowers to the Shivlinga
Then you will have to perform abhishekalam with milk and water
Then you will have to perform Sankalpa by pouring water into the pot and seeking Lord Shiva's blessing
Then you will have to worship Lord Shiva with incense, lamp, bel leaves, water and fruits
Then finally the hawan is performed and thus after it comes the end of mahamritunjay jaap puja
Mahamritunjay jaap puja brings much positivity in a person's life. This brings lots of peace in your life. Doing this puja once in a lifetime is much need.