If you want to stream music then you need look no further than Spotify. Boasting an extensive library of over 30 million songs, Spotify has grown to be arguably the most widely-used music and podcast streaming service on the internet. However aside from during a brief period of time (and in certain countries only) Spotify generally does not allow users to download any music tracks off its platform.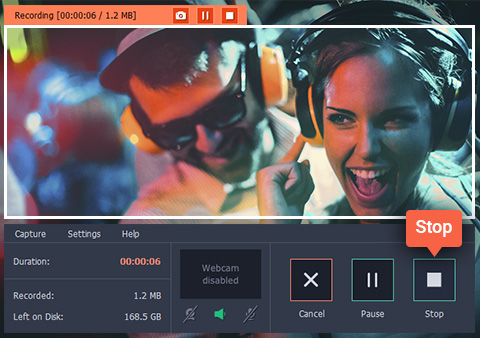 In most cases there is hardly any reason to want to download tracks, however if you want to listen to your music when you're offline, or on a device that doesn't have Spotify installed, then you may run into issues. That is why it helps to be able to save music from Spotify anyway – using Movavi Screen Capture.
Under normal circumstances Movavi Screen Capture would be used to record videos directly from your screen. However in this particular situation it's not the video that you're interested in – but rather its ability to record your system's audio. As such, you should follow these steps to set it up:
Launch Movavi Screen Capture and select 'Record screen' in the main menu.
Click anywhere on the screen to define the capture area (it doesn't matter where since you won't be saving the video anyway).
Make sure the 'System Audio' icon is highlighted in green so that the software records the audio from your computer (click on it once otherwise).
When you are ready, click 'REC' and play the song that you want to record in Spotify at the same time.
Click 'Stop' when the song is done.
To trim out any unwanted bits that may have been inadvertently recorded, position the marker and use the 'scissors' icon to isolate particular segments then select and delete them using the 'trash can' icon.
When you are done click 'Save as' and choose 'MP3' as the format.
Effectively this will let you use Movavi Screen Capture as a Spotify to MP3 converter. However that is really just a small part of what it can do, and if you want to use its full range of features and record videos too then you'll be able to define the capture area, set the frame rate, capture keyboard and mouse actions, and conveniently control the recording using hotkeys or the built-in timer and scheduler.
Suffice to say Movavi Screen Capture can be as versatile as you need it to be, and help you to record any video footage from your screen or audio from your system. The next time you come across a song on Spotify that you feel like saving, be sure to give it a try.