Saving money on a big project involves several risk factors, especially if you want your project to be done in a right manner. Driveway construction is one of those projects; you want to save money where you can but also want quality and durability of the services. In most of the cases, cheap product is always the inferior one.
Moreover, you have probably come across something costing less initially. Then turns out to be bigger expenses in the long run, due to frequent maintenance and repair cost. However, this is not true with asphalt driveways. If you hire reliable asphalt driveway and repair services, you can enjoy sturdy and durable driveways at a reasonable cost.
As during the winter, the ground contracts and during the summer, it expands. Asphalt is super flexible and it helps driveways to undergo contraction/expansion in sync with the weather causing minimal or no damage. Moreover, the time it takes for an asphalt to be poured and set is very less in comparison to that of a concrete driveway. However, it is not only enough if you decide to install asphalt driveways in order to avail all these benefits, you should also hire reliable and reputable asphalt driveway and repair services.
Now, we will discuss helpful tips for hiring the best services for asphalt driveways.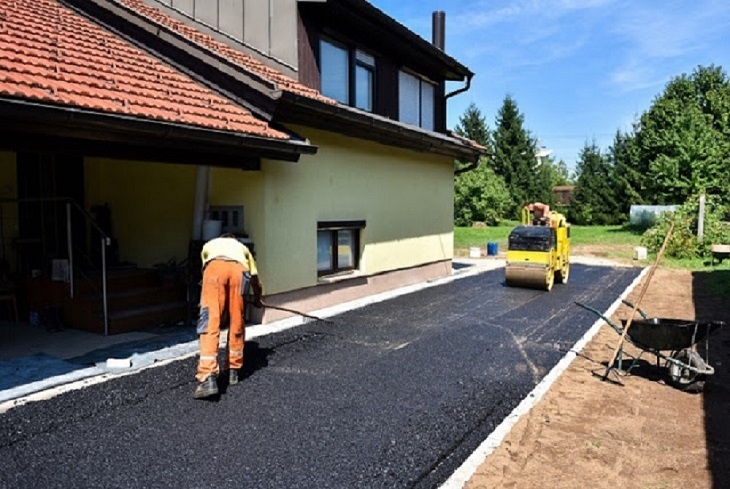 Tips for Hiring Asphalt Driveway and Repair Services
Finding the right asphalt contractor is crucial for the successful installation of driveways. Hiring experienced and expert service providers with the proper tools and equipment may cost you little more initially, but it is highly cost-effective in the long run. Here are some of the helpful ways for finding reliable and scrupulous asphalt driveway and repair services in your vicinity:
Do Not Go for Random Choice: Do not simply hire a company that you find first. Instead, do some homework, search online, or ask your friend, relatives, or colleagues for recommendations. Also, do not entertain any random contractors if they knock on your door and say they have extra asphalt because this is the easiest way to get scammed.
Ask Referrals: Genuine and good asphalt driveway and repair services will provide you contacts where they have worked in the past. You can go and see their work quality just drive by and look.
How Long Have They Been in The Business? Check if the company or contractor you are thinking to hire has a good reputation. It is better to prefer well-established companies with decades of experience and long-standing reputation in the market. The main reason behind this is it will avoid any unnecessary hassles at a later stage.
More Is Better: Asphalt cools instantly once poured down. So, workers must act fast to do the job quickly. So, inquire your asphalt driveway and repair services and make sure that they send enough manpower to manage your driveway project. If they are not able to fulfill this requirement then it is better to move on because the driveway will not last long.
Check License and Insurance: Make sure the contractor you are hiring has a license and legally insured. You certainly do not want to face any potential issues later on just because you did not pay attention to licensing and insurance while hiring contractor for your driveway project.
Latest Technology: Last but not the least; see if the contractor makes use of the latest equipment. Using the latest technology and tools help your asphalt driveway and repair services deliver top quality work.
More often, unethical or immoral contractors try to take advantage of their customer. Therefore, it is your duty to find the best service provider in your locality for the successful installation of asphalt driveways.