It is a dream for everyone to have a fully equipped and well furnished kitchen so that they could try to cook some of the delicious recipes for themselves and their family. There are many different appliances that make a kitchen complete such as refrigerators, microwave, cook tops, mixer grinders etc. Apart from these major kitchen appliances, you also need to have several small kitchen appliances that can be very helpful to you while you are working in the kitchen. Here are some of the small kitchen appliances that you can have in your kitchen for best and enjoyable cooking.
Coffee Maker
If you love to have a cup of coffee in the morning or after coming back from work, a coffee maker is a must have in your kitchen. Having a coffee maker eliminates the need for other things such as utensils for making coffee on a stove etc. You can instantly have a cup of coffee ready for you whenever you want it.
Electric Kettle
For those who love to drink tea, an electric kettle is the best thing they can have in their kitchen. With an electric kettle, you can have perfectly boiling water in a matter of minutes without the need for lighting up your gas stove. You can not only get water for your tea, but you can also boil water for coffee or noodles in an electric kettle. In today's time, electric kettles are available in two different models viz. corded kettle and cordless kettle. They are also available in different capacities ranging from one litre to four litres.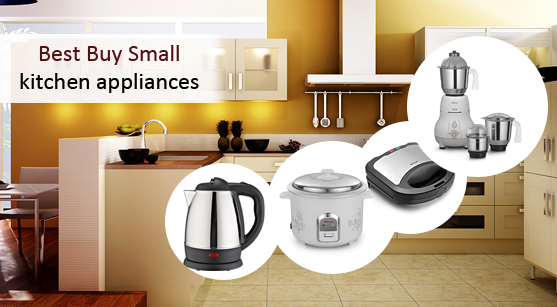 Hand Blender
A hand blender is a very compact and useful device to have in a kitchen. With a hand blender, you can whip cream, mix ingredients for you dishes, beat eggs for your omelette and many more. They are also very easy to clean and maintain.
Toaster
For those who miss their breakfast just because they have no time for it, a bread toaster can be very useful. With a bread toaster, you can prepare crispy and tasty bread toast in very less time and you can enjoy them with butter, honey or mustard in your breakfast. Now you never have to miss the most important meal of the day just because you don't have time.
Make sure to have a separate closet to keep all your small kitchen appliances. It will give your kitchen a neat and tidy look otherwise if you your small appliances are placed outside, it will make you kitchen look crowded.
When looking for the best deals, online stores are the best place to find them. For best buy, small kitchen appliances can be bought from the online stores as you get the best quality of products here that also on the best possible prices, which are very much lower than the offline stores.
Author's Bio: The author is a homemaker and a part time writer. She loves to share her tips and advice on how to make the homes better through the articles written for various websites such as www.appliancemart.in.