The function of curtain is not limited in light shading and privacy protection any more. As it occupies large area in our home, curtain is in the list of interior color scheme too. Size, shape and orientation of space are the factors that haveinfluence on curtain's color scheme. Warm colored curtain makes people feel comfortable. Cold colored curtain creates capacious and elegant look. Neutral colored or light colored curtain can be used to play the role of transitionfor interior design with strong color contrast. When the color of other home furnishings is neutral or monotonous, bright colored curtain forming strong color contrast can change the visual effect of the room. Cold colored design goes well with warm colored curtain. Cold colored curtain can be used in warm designed room. Do not use similar color scheme in the same room. Mixing light and dark, cold and warm color will make your room more harmonious. Find tips for picking curtain here.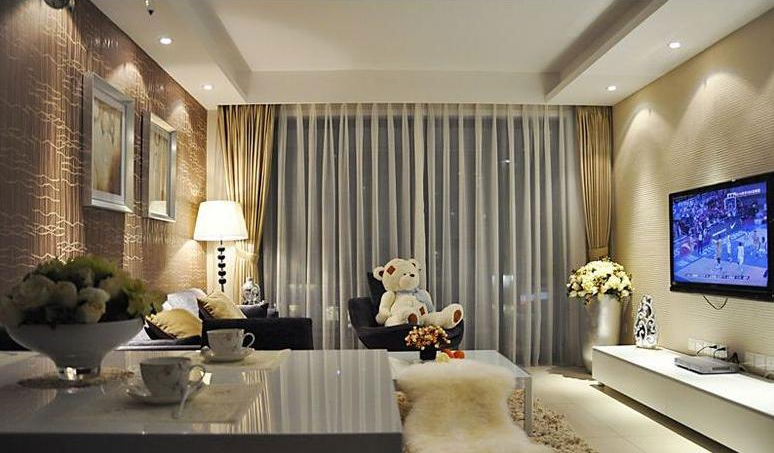 1. The Postmodern Style
The design of living room has dark color as its main color tone. Ring pattern with rhythmsheer and light yellow lintchange the atmosphere of the room. Simple style, soft color adds concise feeling in the room. It gets rid of tedious and complex and shows the mentality of home owner pursuing simple and natural life.
Bedroom has light color as it is main color tone. Dark colored lint curtain with shell pattern make the atmosphere quiet. Light grey bedroom choose dark blue curtain with light printing to add stability.
2. The New Ornamentalism
The simple lined white color living room is elegant and fashionable. Curtain with crossed line pattern in brown color and light colored luxury sheer match well with the fashionable feeling of living roomfor simple style and perfect details.
The simple line and light color of bedroom pass out romantic information. Light purple curtain and white lace sheer increase the romantic atmosphere in it. Light purple curtain in study makes it grace and steady. White colored sheer with dot make the study clean and organized.
3. Northern Europestyle
Northern Europe style bedroom has white and light beige as main color tone. Dark printingpattern curtain echoes with the concise and elegant of Northern Europe style. White sheer adds integrity to the whole decoration.
Northern Europe style home office has white as its main color. Light apricotstrip curtain and white sheer create relaxed study environment.
4. Chinese Style
The furniture combines Southeast Asiaelement and traditional Chinese decoration elements together. Home furnishing is white colored. The contrast of dark brown curtain and light colored sheer create plain and simple atmosphere.
Bedroom also has light color as its main color tone. Dark colored embellishment add antique flavor to the space. Vertical wide strip curtain increase the East mystery. The collocation of light grey curtain and white sheer add noble and elegant atmosphere to bedroom.
Except curtain, wall is another key point for home decoration, if you are looking for advice on wall decoration, then you can go here to find wall decals decoration tips.