Though professional guides are highly recommended for first time Tanzanian visitors- those who can drive all the way alone, do not like to get poked by the former. A self-drive Tanzania safari to the marvellous Lake Manyara requires a confident heart and a stamina filled body.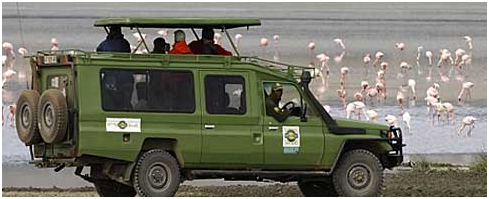 Getting geared up for the Self-drive Trip
For a self-drive safari Tanzania to Lake Manyara, you should opt for a sturdy 4 X 4 land rover vehicle that is fully equipped with spares, camping requirements, eateries, safety equipment and all those stuffs that may be required by you during the journey. Do not forget to keep in your bag an extra spare of maps, GPS devices and communicating equipment for contacting in case of emergency. You will receive a demo and require getting the formalities done before the vehicle is handed over to you. You must either hire the Toyota Rav4 or the Toyota Land Cruiser.
Those who prefer self-drive safari Tanzania, usually hire the car for around 11 days to explore the whole of Northern Tanzania. For each car, a maximum of six people is allowed.
Self-drive Route and Tip for Driving to the Lake Manyara
Reaching Lake Manyara is not a difficult task. It's just about 90 minutes away from the Arusha National Park and about an hour drive from the Ngorongoro Crater. Since it is very close to the famous Serengeti and the Ngorongoro Crater, you will face traffic during the peak season. If you want a smoother experience, you may plan to do a night stay a day before at a lodge or campsite near the Ngorongoro or the Serengeti or instead choose to go off season.
Some tips for a smooth land rover experience Tanzania:
Drive at 100km/h on highways and 50km/h in urban areas.
Beware of unmarked speed breakers that you may encounter very frequently during the journey.
There are many potholes, so make sure you don't travel at night.
Drive defensively and always carry a fully charged extra piece of handset, power banks, extra cash and plenty of food materials.
Your tyres may flat out during the journey. However, there are several service stations on the way which can fix it in no time.
What to see at Lake Manyara?
Lake Manyara is essentially famous for flamingos. The lake is full of flamingos in the wet season and, other than these, you also get the opportunity to spot about 400 never seen before species of birds. It's a great spot for bird watching and one may not see less than 100 species of bird during his or her journey. Some of the other birds to watch here are: herons, pelicans, egrets, spoonbills, stilts, crowned eagles, silvery cheeked hornbills, crested Guiana fowls and more. Talking about the game, the Lake Manyara being close to a water source, you are expected to see every type of animal visiting the mouth of the lake. You will be able to see here elephants, monkeys, dik dik, hippo, impala, giraffe and even the big cats like the lions, leopards and the cheetahs.
Since you will be travelling all alone, it is highly recommended that you stay back at the car while watching the big games and especially the big cats. Do not annoy them or else you may lead yourself into a trouble.