Corporate event, business meeting, business party, whatever you want to call it, a majority of staff dread the thought of another day of sitting in a cold, dreary conference room in some hotel. Whatever your event's focus is, hospitality, production launch, to display products, a marquee can provide the perfect environment and add a bit of style to the event.
Marquees provide the right atmosphere for events such as exhibitions, business holiday parties, product launches, promotional events and many others. To meet the needs of the size of the gathering or expected visitors, there is a wide range of marquees and theme accessories available.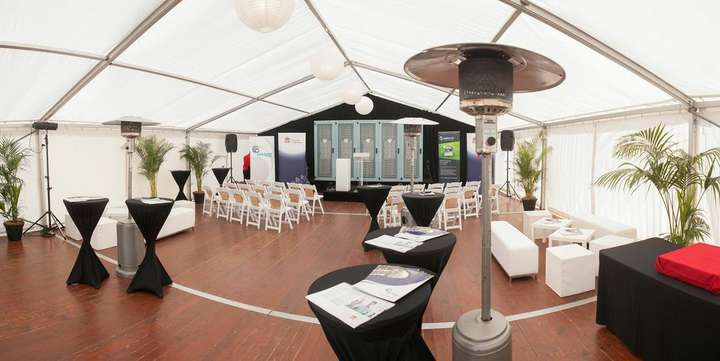 A Change of Scenery
Hotels offer corporate venues, but each sterile conference room looks just like the other, grey and boring. Using marquee hire in Warwickshire can change the drab surroundings into a setting that entices people to want to come back. A marquee can be tailored to meet the exact requirements, you need and can also be customised to the corporate colour scheme if desired. You can customise the fittings, furnishings, lighting, and appearance of the marquee. The only limit is your imagination, so get creative and change the scenery. Enhance the company's reputation or show your team your appreciation with a rewards ceremony. Whatever you have to say, say it with a creative flair.
Flexibility
Using a marquee also allows for more flexibility. You can create the space you need. Large areas for demonstrations can later be converted to seating for a dinner reception. If your group is small, you can gather in an atmosphere conducive to team building rather than being spread out over a large conference room. Likewise, if you have a large staff or expect a large number of guests, the marquee can be adapted to have enough space for comfortable seating and a podium for a speaker. What you choose to furnish the interior of the marquee with also depends on the tone of the event and the mood you want to set. Interior furnishing includes things such as wood flooring and chandelier lighting, or can be a more practical space with cushioned chairs and tables for comfort.
Weather Friendly
You can try to plan your event for the weather. Pick a day that you expect will be a day with beautiful blue skies, puffy clouds and a gentle breeze to keep your guests comfortable. Unfortunately, you can never depend on the weather to cooperate with your plans but hiring a marquee takes the worry out of the weather. The conditions will be weather proof and consistently comfortable throughout the event. Rain, snow, hail or wind cannot force you to cancel a company event that probably took months to plan and was no easy task to pull together and because there are a variety of weather proof marquees available, you won't have to compromise on style.
Cost-Effectiveness
Hiring a marquee is a great way to stay within your allocated budget. It can meet all your requirements while you'll be free to add on such as bar units, podiums and generators, and often still leave a little extra for added décor. There are no hidden costs or limitations. It can help your business stand out from the crowd and if the marquee is used on or near your site will attract potential clients. Hiring a hotel is expensive and boring and everyone does it.
Prior to making your final selection on your marquee hire, shop around. It is important to work with a company who can meet the unique needs of your business. For example if your event is an employee training event, you will want to find someone who has experience in strategic planning and training management. They will know how to set up your marquee in a way that is creative with a little fun yet maintain the professional atmosphere. Let your event be a well-remembered event, something that will be talked about within the business community until the following year's event. Of course, then you may be expected to outdo yourself.