Have you been mulling over the idea of redecorating your kitchen? 2015 is the year of the kitchens! Before you take the plunge it's important to think about what you'll need and how you can improve your existing kitchen setup!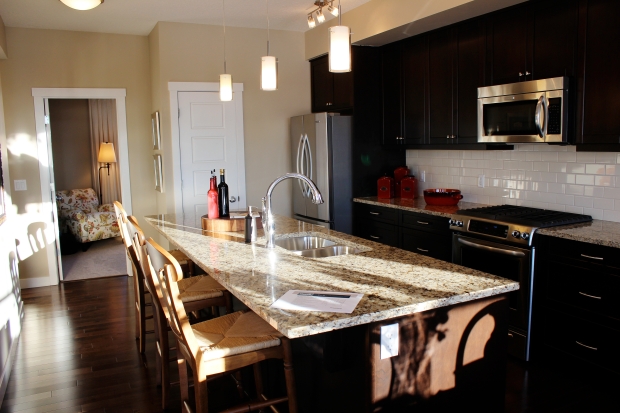 Though we can't write your dream kitchen for you, we can lend a hand with a list of design elements that are on the rise in 2015 – take a look at these trends and see if any of these catch your eye!
Airy – from open shelving, practical solutions in a very minimalistic design. There is a growing trend for practical solutions and open storage rather than the traditional display kitchen will very little practical storage.  Open shelving personalizes the area, making it feel lived in and cosy whilst still being a functional and easy to use kitchen.
Feature ceilings – yes, you read that right!  2015 is predicted to see the rise in statement-making ceilings, I mean how many of us look up? More emphasis will go into ceiling design, in terms of shape, features etc. Through the use of lighting, bulkheads or coffer ceilings, or the addition of classic embellishments, our ceilings will become part of the room's beauty once again. This design is a tricky one to envisage, try googling kitchen feature ceilings to get an idea – from fairy lights to wooden beams to bright wallpaper on their ceilings!
Touch textures – we all love to touch different materials, and what better place than the kitchen. 2015 is going to see a move toward using more textured and tactile materials, with natural marble, solid oak wood to engineered stones that replicate raw finishes, are a few materials. Wood will still be a big trend in 2015, but in finishes that represent it in its natural form, rather than high-gloss or smooth finishes – think rustic, shabby chic and antique, that rustic oak dining table with distressed wood!
Luxe metallic – while silver, chrome and stainless steel are three metals commonly used in the kitchen, however we will see a change this 2015  to warmer colours, like gold, copper and bronze. This theme ties in touch textures and metallic features, all of which will complement pastel and bright colours alike.
Feeling Inspired
These are just the first few trends that are set to appear in 2015, with many more to come. If you are feeling inspired by any of those descriptions/trends then why not try googling them to get more images and ideas! Any redesigning that you do always remember to draw a plan first. Be logical and practical about your designing. Always start with a budget – this is something that can creep up on you later otherwise. If you are struggling to visualise ideas, then why not pop down to your closest outlet – from stores like ikea, D&Q to your local kitchen showroom – just find out what is in and around your area and go down, visit and get an idea of what you do and don't like. You can then being a portfolio of all the colours, patterns, textures and furniture that you like in or to compile together and make your perfect kitchen.