Bigger kitchens are not always the best choice. It is known that smaller areas are usually more efficient, especially when we are talking about kitchens. A well-decorated kitchen design has maximum efficiency and minimal clutter.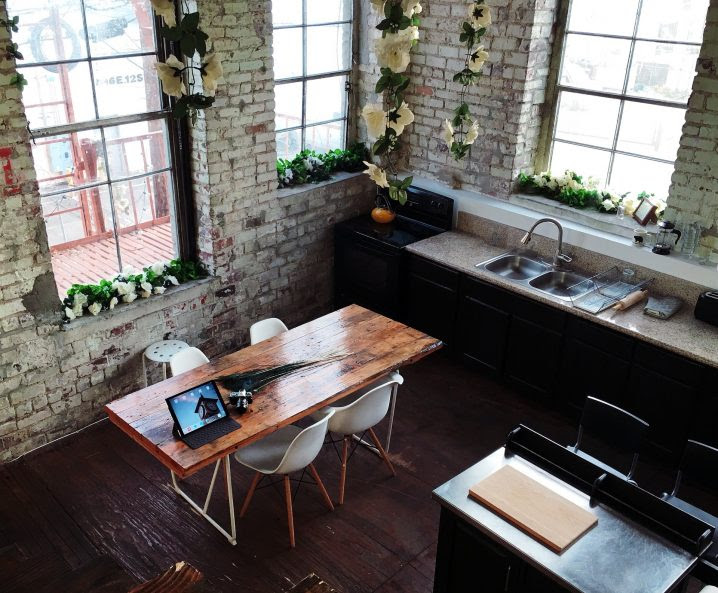 The three most common small-kitchen issues are lighting, clutter and lack of counter space. So, whether you are moving to a new apartment or house, redecorating or remodeling your old one, here are some amazing tips and ideas for your small cooking zone.
Open It Up
Small kitchen designs can feel claustrophobic because of the cabinets that are towering over your head. There are things in the cabinets that can't be reached easily and there's no enough space for a ladder or a step stool either. That's why the overall feeling is closed in and boxy. To make your cooking space look more spacious, organized and relaxing, trade the bulky cabinets with open storage, pot racks, efficient shelving, kitchen utensil holders, etc.
Mix Up the Materials
Your tiny room may be short on interesting architectural details, so it is up to you to mix styles, materials, colors and textures. You can display some interesting, yet eye-catching details on the countertop surfaces, flooring, cabinetry, etc. Using the same style and color of cabinet pulls and fixtures can help unify a look.
Light It Up
Your tiny cooking area needs a combination of atmospheric and task lighting. Fluorescent lighting is frequently found in kitchens. Consider hanging beautiful pendant lights that bathe your dining zone in some more appetizing color.
You can also think about incorporating ceiling incandescent lighting and incandescent lighting underneath the upper cabinets. In the recent years, lighting has also been added to flooring. These lighting solutions will make your space look more large and dramatic.
Use Bold Colors
The color of the dishtowels, stools, counters, appliances, tools and walls can change the perceived size of the area as well as the ambiance. Colors that reflect light and draw the eyes upward, making the room look taller are light and pastel colors with good doses of white. You can also use bold colors. How about some creme concrete countertop, green walls and red metal cabinets?
Make Your Space Comfortable
Instead of using tricks to enlarge your small kitchen space, maybe you want to embrace it just the way it is. Choose a dark, rich colors to create a sophisticated and royal feeling and use bold accessories that complement to that look. Incorporate small nook where you can enjoy your meals with your family. By incorporating such ideas, you will turn your little space into a cosy cooking area.