It is estimated that more than 3 crore pilgrims visit the temple in Sabarimala per year, making it among the most visited temples in India.
Nestled within the dense forests and cascading streams, the holy town of Sabarimala is named after the mythological character Sabari. It houses the famous Ayyappa temple and it is widely believed that incarnation of Lord Vishnu Parasurama placed the idol of Ayyappa at the top of the mountain.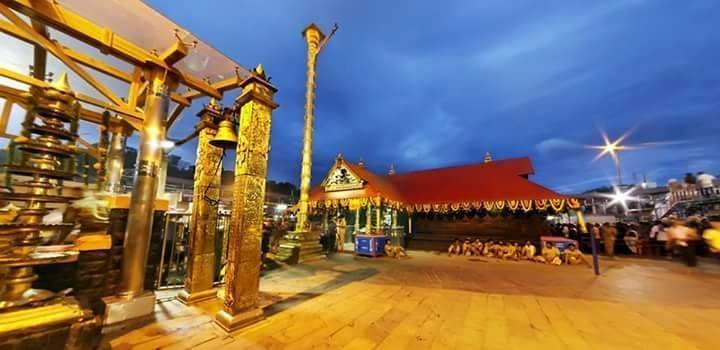 One can witness millions of people congregating at this place in the holy months of November-December, which according to Malayalam calendar is the Mandalakala season. This is the annual pilgrim season and devotees form all across India and abroad come to Sabarimala, irrespective of their castes, religion and economic classes. The festivals of Mandalapooja and Makaravilakku are the important ones in Sabarimala. The devotees who plan to embark on the Sabarimala pilgrimage must give up non-vegetarian food and tamsik pleasures for 41 days.
Sabarimala lies at a distance of 158 km from Kochi and is considered one of the oldest temples in India. It has a history of more than 5000 years. The temple of Lord Ayyappan is perched in the midst of 18 hills, at a height of about 3000 feet. Kochi to Sabarimala cabs can be easily booked online.
The trek towards the shrine is long and goes through the lush trees forests, streams and pastures. It is a mesmerizing experience that everyone must have at least once in their lives. Although the trek to Sabarimala is long and arduous but it is not that tiring since there are plenty of trees and shelters throughout the journey which helps you relax.
At a distance of only 100 meters from the main temple of Sabarimala, there is another temple called MalikappurathuAmma Temple, also known as Malikapuram Temple. It is a holy temple dedicated to Goddess Malikappurathu.
According to mythology, The King of Pandalam enrolled Lord Ayyappa in a famous martial arts school during his childhood. Ayyappa mastered all forms of martial arts during that period. Daughter of Ayyappa's martial arts teacher fell in love with Lord Ayyappa and requested him to accept her as wife. Lord Ayyappa intended to be a bachelor throughout his life so he offered her a seat at Sabarimala. From then on, she came be known as MalikappurathuAmma. Lord Ayyappa promised her that during any of the years, if there is no first time pilgrims visiting Sabarimala then he would marry her. It is a religious custom that every first time visitor to Sabarimala deposits Saram as a mark of their arrival.
In Sabarimala, there is a popular Muslim shrine as well, called the Vavar Shrine. It is dedicated to a saint known as VavaruSwamy. Sabarimala is an epitome of religious harmony and tolerance.
Pamba is the base station and located 8 kms from the Sabarimala Temple. It is a beautiful location and quite popular among trekking enthusiasts. Pamba got its name from Pamba River which flows through this picturesque place. Pamba is also known as the TriveniSangam as it is the meeting point for three rivers, namely Pamba, Achankovil&Manimala. Devotees visiting Sabarimala take a holy dip in the river here before starting the trek and also after their return.
Large number of pilgrims visit Sabarimala from Kochi by hiring Kochi outstation cabs. Affordable Kochi to Sabarimala taxi can be booked online through Savaari.com.