If you want to build an app for your small business but money and time is putting you off-then you're not alone in this. The idealistic picture is that you need an app. The small or big and the best are all in the same field playing the same cards-because building an app for your business is not an option anymore, it's a necessity. Is it that simple?
The answer is that entering this huge mobile app market is no longer a hassle. You don't need months of work or thousands of dollars to develop an app. You don't even need to spend a huge amount on hiring an app developer. If you want to build an app yourself even then you have plenty of mobile platforms to help your build an app.
There are mobile app development companies that are available to assist you at favorable cost, such as VeztekUSA. If you are not sure for how to go about building an app then contact them, they will take care of your needs. And even if you have no coding knowledge or technical skills, the mobile platforms will enable you to craft your own app.
All the budget conscious persons out there can build functional mobile apps free or at fraction of cost. Let's take you through this list of App builders that you can consider for developing your app:
#1- GoodBarber
Just like the name sounds, this app builder originates from French island of Corsica. It has beautiful themes and some impressive features like chat, Geofencing, social networking, and iBeacons. You can get the native app for your Android or iOS for €16.
What's Good- You get beautiful templates at a very good price and there is a lot of flexibility.
What Needs Improvement – The app builder does not need much work but it doesn't have an online store, however it can be integrated to Etsy, Amazon, and Shopify.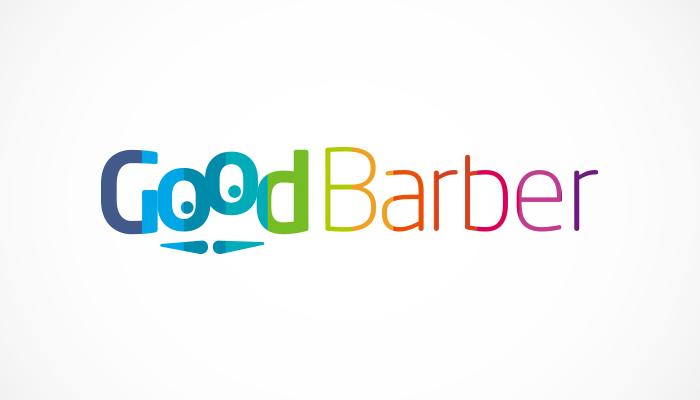 #2- The Swiss Army Knife of App Creators
This app creator is one of the biggest fish in ponds and it claims on powering more than 1 million apps. This app creator originates from Israel and was founded in 2010. The app gallery features majorly organizations, bands, and restaurants running events. A large number of building blocks are available such as ecommerce, loyalty card feature, appointment scheduling integrations, and events and reviews.
What's Good– The design is a definite plus with quite a huge a range of features. If you create an app with this app builder then the success is a guaranty with it.
What Needs Improvement– You get emails from them on daily basis, their marketing strategy becomes annoying more than convincing.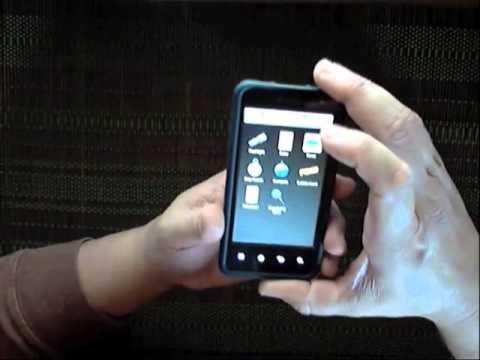 #3- Shoutem
Shoutem is application maker that features great number of options. Their integration possibility with Shopify enables you to cover the investment you made on Shoutem. The price is that comfortable but it's not even the most expensive provider-it starts at $19.90. This price is even high when you want to get it published on Android App Store or on Apple. You have to start with minimum of $49.00.
Out if the many powerful options, location based directory is one of the few best ones available. It's fun and easy to use with a variety of great options available.
What's Good- The app builder provides and easy to use frame, the design is very appealing, the uploaded images are handled through easy means, and it is a location based element.
What Needs Improvement– A personal online store is required.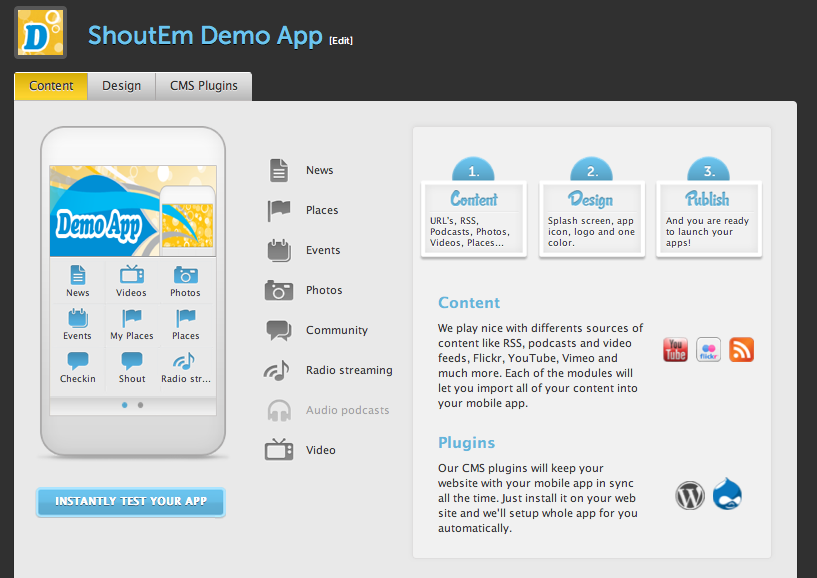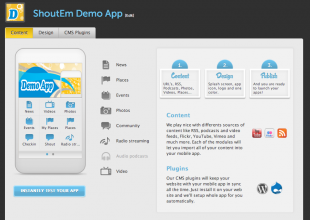 #4- AppYourself
AppYourself is a company since 2011, enabling users to develop apps for Windows Phone, Android, and iOS. This app builder differs from the others as they also allow creating responsive website that helps syncing content of the app as well. They have four different packages from Web Only €5 to Business for €50.
You can try the app for free for a start and keep it for free, unless you submit the app for any of the app stores-you need to be at least on a Basic plan. The extensive features offered by them include loyalty cards, table booking options, ecommerce, photo galleries, and news feed streams.
What's Good- The best part about this app builder is the presence of their online store and contact support that makes things even easier along with the user friendly interface. They offer the feature Connect App that enables updating the app on the go.
What Needs Improvement– Certain menu items available on the app builder website are in Germany, though that's not a huge issue but it still needs to be addressed.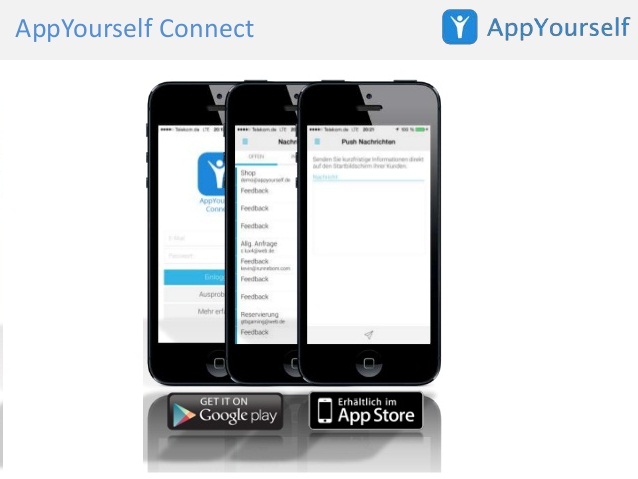 #5- AppMachine
AppMachine is a highly potential app builder automating a great number of tedious processes. All you need to do is, provide them with your website URL-they import anything and everything necessary for your application. The AppMachine is a match to its name and proves to be not only useful but unique as well. It gives you the flexibility of connecting Facebook, RSS, and Twitter also.
AppMachine is a creation of a Dutch company and has all the potential to be a top player in the market. At the moment the two plans offered by them include Plus for $49 and Pro for $69.
What's Good- The building block section is very comprehensive and the editor is very powerful.
What Needs Improvement- The user interface needs to be more logic al and faster.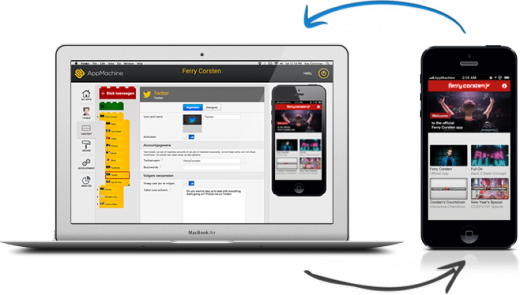 Conclusion:
The tremendous opportunities made available with internet and technology makes it possible for even the least skilled individuals to create apps. This is very true that you do not require any technical or programming knowledge to create an app, but if you want your app to reach any of them app stores then it's important for you have at least some basic knowledge.
Your app will become a hit only when it has the right amount of visual components and your understanding of developing a valuable app. Very app specific functions are required for you app to strike differently.