When hunger pains strike, and you're almost desperate enough to stop for fast food — do the right thing. Consult your trusted list of top truck stop diners. These locations come highly recommended by foodies across the country.
Olive Hill, Kentucky
Just off of I-64, this diner has a reputation for hearty portions and reasonable prices. Travelers enjoy the fact that they have the option of ordering from the breakfast menu through the afternoon. Feast on a meal that might include bacon, ham or sausage and eggs accompanied by biscuits and gravy or grits. Smokey Valley is also known for their burgers, pork chops and homemade pies, along with great customer service.
Bangor, Maine
Open 24/7, all year round, truckers find a nice selection of home-cooked type recipes at this eatery. Located off the Coldbrook Road exit on I-95, menu choices include shepherd's pie, stuffed roast pork or homemade soup and sandwiches. Stay for dessert and have a baked-today pastry. The in-house bakery offers a variety of piping hot breads, cookies and pies to enjoy at the facility or on the road. Meals are reasonably priced and service is quick.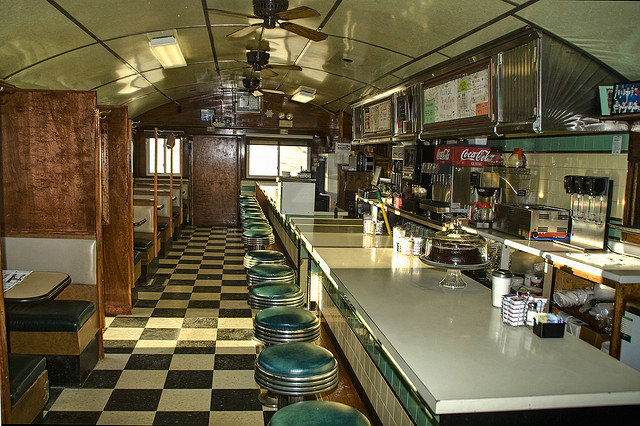 Rowley, Massachusetts
Family owned and operated for more than 70 years, this little diner, with a down home atmosphere, lies approximately 28 miles north of Boston, off I-95. In addition to the generously portioned breakfasts served daily, the facility's signature dishes include chicken croquettes, homemade beef or chicken pot pies and meat loaf. For dessert, diners have the option of choosing from a menu featuring a list of old-time favorites that include homemade cream pies.
Beaufort, South Carolina
Owned and operated by an authentic Marine veteran, hungry diners find this restaurant on the Boundary Street exit off I-95. Travelers stop here for the authentic southern style pit BBQ that features fork tender ribs or pulled pork. Other traditional menu choices include baked chicken, fried chicken or fried shrimp. Each meat dish comes complete with homemade cornbread and the desired selection of sides, which may include mashed potatoes and gravy, candied yams, greens or other vegetables, macaroni and cheese, or red rice.
Ann Arbor, Michigan
Take the Detroit Street exit off I-94 to grab some delicious homemade food from this deli that serves breakfast, lunch and dinner. Order a thick sandwich made from locally grown ingredients or try one of the signature, homemade pot pie sack lunches that comes with a salad, a brownie and a beverage. The in-house bakery prepares cakes, cookies and other pastries. The adjoined coffee house offers hot beverages accompanied by gelato or freshly baked pastries.
Walcott, Iowa
Featured on Travel Channel's "Food Paradise," Gramma's Kitchen is location off exit 284 on I-80. Reputed for a wide selection of down-home comfort foods, the vast menu selections cover breakfast, lunch and dinner. Opt for anything from deep-fried pork tenderloin, lasagna, pot roast, roast turkey or pork chops. The best part is: breakfast is available all day.
Larkburger
Edwards, Colorado
This restaurant takes burgers to a new level. Have a traditional thick, juicy Black Angus beef burger or be adventurous and try a patty made with chicken, turkey, tuna or truffles. Each burger comes stacked with lettuce, tomato, onion and choice of homemade sauces. Enjoy a side order of hand cut French fries, truffle and Parmesan fries, beans, chili or salad. The venue also offers dairy and gluten-free options. Located off I-70, the environmentally conscious owners also recycle the cooking oil for vehicle fuel.
Half the fun of having a commercial driver's license is taking pit stops, conversing with other motorists and truckers along the way and meeting a variety of people. Throughout their daily travels, truckers also have the chance to dine at some of the best places in the country.
Featured images:
License: Creative Commons
Amy Thomson writes about technology, career success, and education. When she's not writing, she's skydiving over the Rocky Mountains.