If you are looking to buy a home but find yourself lacking the funds to complete the deal, you can opt for a Home Loan. The upside to a Home Loan is that it comes with an extended tenure, which can span across decades.
During this tenure, if you find yourself in a position where you need money, you can look at getting a Home Loan Top Up. Let us have a look at what getting a Top Up Loan entails.
What is a Top Up Loan?
A Home Loan Top Up can be availed from the lender you have an existing agreement with. In other words, if you have taken a Home Loan from a bank or NBFC, you can approach them for a top up on that loan. Like a Personal Loan, this loan allows you to use the money to meet personal or professional requirements. While the tenure of a Top Up Loan is generally around 10 years, it can go up to 15 or 20 years if your overall loan tenure is high.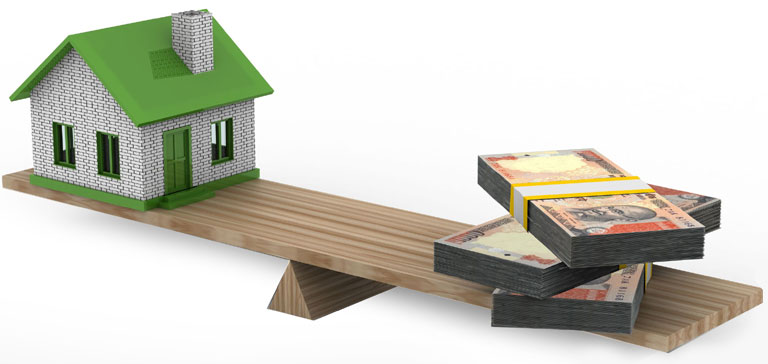 The Benefits
Here are the advantages of a Top Up Loan:
No Restrictions on Where you Spend the Amount
Unlike a Home Loan that can only be used for purchasing real estate, a Top Up Loan can be used for almost anything. The loan can be used to pay for home renovations, medical emergencies, education, or even as a downpayment for a car. This discretion makes it ideal for Home Loan borrowers who are need of immediate money.
Lesser Paperwork and Quicker Disbursals
As you would have already submitted the required documents for the Home Loan, the paperwork involved getting a Top Up Loan is significantly less. Also, since most verification processes are similar, the loan formalities would have already been taken care of when you applied for your Home Loan.
Low-Interest Rates and No Mortgage
When compared to a Personal Loan, the interest rate levied on a Top Up Loan is considerably lower. This would serve well for borrowers who aren't looking to pay 2 separate loans EMIs. Also, since the Top Up Loan is being taken on the Home Loan, you won't have to offer up collateral in the form of the mortgage when applying for the loan.
Benefits Related to Tax
Top-Up Loans are liable to receive tax benefits on interest paid, under Sec 24 of the Income Tax Act. If you use the loan specifically to finance home renovations, then you can claim tax benefits on the interest as well as the principal amount.
Home Loan Top Up Procedure
While some banks and NBFCs call for a minimum of 12 months of the repayment period to lapse before a Top Up Loan is offered, others ask for only six months. Once your lender's stipulated time frame is over, you can approach them and fill out a form for the Top Up Loan. Along with the application, you will need to submit several documents. The documents needed include:
Signed application with a photograph
Identity proof
Residence proof and KYC documents
Existing Home Loan documents
3-months' worth of receipts for premiums paid on your Home Loan
Income proof (salary slips, income tax returns, and statements from your bank)
Top Up Loan Eligibility
The foremost point to remember, when it comes to Top Up Loan eligibility, is that only existing Home Loan customers are allowed to opt for it. Once you've completed the number of months of the repayment period, that your bank or NBFC calls for, you can apply for the loan.
The approval of your application is based on your ability to repay the loan. This can be ascertained by your payment history and your current income. If you have a stable income and have not defaulted on even one EMI in the past, your chances of getting a Top Up Loan sanctioned increase.
Points to Remember about Top-Up Loans
If the benefits have swayed you to opt for a top-up, keep this points in mind when you decide to sign on the dotted line.
Check all Charges Applicable
A Top Up Loan is just like any other loan, it has certain charges and fees tied to it. Research on the various fees your lender might charge you—like processing fees and late-payment charges.
If you are looking to transfer to another bank, make sure you check their rates of interest, processing fee, and foreclosure charges, among others. If you are transferring your Home Loan to another bank or NBFC, ideally, the processing fees and other charges that come with a Top Up Loan shouldn't surpass what you would pay if you continued with your current lender.
Keep an Eye on your Property's Value
When it comes to property, the rates are never consistent. So, make sure you keep yourself abreast about how much your property is valued at, especially when looking for a Top Up Loan. If you have this approximate, you won't be caught off-guard about the amount offered as a loan.
Check if your Bank or NBFC has the Top Up Loan Facility
Not all financiers offer the option of a Top Up Loan. So, if you think you might need the option after you take a Home Loan, make sure you look for lenders who offer this type of loan.
If you find yourself in need of immediate cash and aren't ready to face the high-interest rates, high EMIs, and tedious paperwork that usually comes with a Personal Loan, consider applying for a Top Up Loan on your Home Loan.