Does directional signage need to be boring? While signs of this nature need to be clear and free of ambiguity, there is room for humor. This is especially true when the atmosphere of the business lends itself to a wry take on safety, directions and warnings. One of the best examples of such a business is a brewery tour. Anytime alcohol is involved, you can feel free to loosen your belt a few notches and have a little fun with your signs.

Finding Humor in the Mundane
The sad truth about safety signs is that most people look right through them. If a sign fails to catch the reader's attention, it may as well not be there. If you can bring some humor or irony to the situation, however, you may get people to actually read your message. While brewery tours are a great place to find examples of humorous way-finding signs, your local swimming pool supply store may be an even better source. Signs like "No Running in The ool (We Left the "P" Out of the Pool and Ask That You Do the Same") aim for the funny bone while getting two important messages across to patrons. Look for an employee with a sharp wit, or hire a sign company that can bring humor to your signs on your behalf.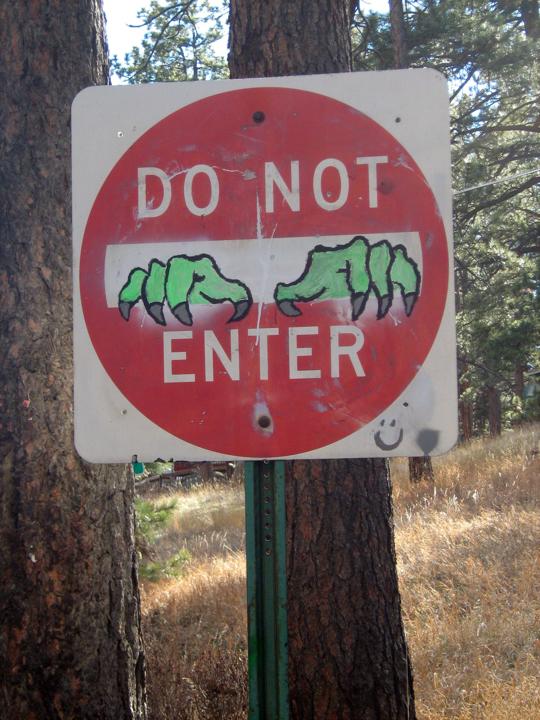 Lightening the Mood
A fun bar can provide as many examples of funny signage as a brewery tour. While it's important to bring walk-in traffic through the door with advertised specials, some of the most successful bar owners have found that a deliciously humorous turn of phrase can work as well. Not only do these signs engender fondness from customers, the best of them stand a chance of going viral online. Whenever you can do something to get people talking, you should take that opportunity seriously. But, of course, not too seriously.
A Time and a Place
So you don't run a brewery, and you don't own a bar. Does that mean your informational signs need to be dry and boring to match the mood? Certainly not. While an office supply store may not have as much freedom to incorporate edgy humor as a local pub, you probably have more leeway than you think. While you would need to change the wording, and clean up the phrasing for general audiences, this kind of humor could work in almost any business.
Bringing It Home
You don't need to own a business to have fun with your signs. Consider the backyard barbecue. If you're hosting a party at your house or just looking to decorate your man-cave, funny signs are the way to go. You have even more leeway in your home than you do in your business. Once you've embraced the idea of sprinkling fun directional signs around your house, you can extend that humorous approach to party invitations, favors, cake toppings and more.
Whether you're looking to lighten the mood in a retail space, get customers to pay more attention to your important warning signs, or throw the ultimate backyard bash, you can get a lot of mileage from a well-placed, funny sign. Brainstorm some ideas, hire a good company to do it for you, or browse the Internet for some inspiration. If you can make your customers and friends laugh without veering into offensive territory, you'll be well ahead of the game.
Featured images:
License: Creative Commons image source
License: Creative Commons image source
License: Image author owned
Alison Johnston, a writer living in the greater Denver area, enjoys writing about visual communications and solutions. She is a recent graduate from the University of Colorado Boulder and a published poet. When she isn't writing you will find her venturing throughout the neighboring mountains or snuggling up to a good poem.