Anyone that claims moving home is a tricky task has clearly never tried to tackle office removals in Enfield. For every box there is to tick and concern there is to bear when moving domestically, there's at least a dozen when it comes to transferring a business to a new location.
However, just as is the case with a domestic move it all comes down to the way you approach the job with regard to what kind of transition and result you can expect. As such, one of the very best things you can do is to arm yourself with something of a checklist that covers each and every one of the most important elements of all, in order to ensure that nothing is given the chance to slip you by.
And while much of what's important will vary in accordance with the size and nature of the business you're looking to move, the following examples represent a series of universally applicable boxes to tick along the way:
Time Frame and Schedule
In order to keep both disruption and downtime to absolute minimums, you need to determine in advance exactly how long the move will take, how much time you'll need to plan and also how much time you can afford to dedicate to the move. When time is not a luxury you have to play with, you should call in the professional movers for help.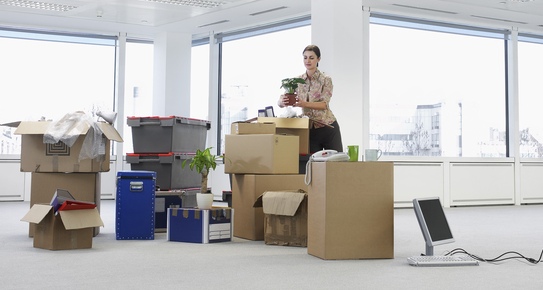 Communication is Key
Outline a plan ahead of the move to let all important clients, customers and service providers that you are going to be making a move. It really isn't good practice to go about this in something of an 'as and when' haphazard manner as it is inevitable that you will overlook a few key contacts. Make a list and cover it from top to bottom.
Allocate Tasks
Don't just expect every employee across the business to know what they can or should be doing to help with the move – allocate tasks in accordance with their line of work and capabilities. This way, there will be no confusion as to who should be doing what ahead of and during the move.
Make Backups
The chances of any of your data being lost or compromised along the way are extremely low – especially if you partner with a genuinely responsible moving partner. However, accidents do happen from time to time and in many cases cannot be avoided, which is why it is of the utmost importance to back up anything of genuine importance to the business prior to going ahead with the move.
Literature Changes
Don't wait until you are safe and settled in the new premises before you begin going about the changing of things like letter-headed paper, business cards and general company literature. Anything that bares your company's address can be changed and ordered ahead of time to minimise delays and responsibilities upon your arrival.
Plan Your Layout
It of course seems like an obvious point, but still warrants revisiting – always be sure to consider how you'd like the new office to be laid out in accordance with furniture, computers and all other items across the board. If you know where everything needs to be from the moment you arrive, you'll find it much easier to both get in and settle in.
Consider Arrivals/Deliveries
One of the biggest problems many businesses face when moving to new premises is that of access to the new office, or lack thereof. It could be located on a high floor with only one small lift in service, just as there may be problems finding anywhere to park the van outside legally. Never simply take for granted that access to the new place will be free of obstacles.
Choose a Quality Moving Company
The logistical and technical challenges of moving a business from one location to another simply cannot be underestimated and never fail to take first-timers by surprise. As such, not only is it important that you team up with a moving company, but the right moving company for the job. This means a mover with plentiful experience in the field of office moves and a reputation that speaks volumes for itself.
Allow Ample Time
Last but not least, it's important to expect the unexpected at all times which in this instance means allowing more time than you think you'll need. If all goes to plan, then great – you'll have some bonus time to play with. But if things crop up and slow things down, you'll be glad you set that extra day or two to one side.