If you are in France this year and enjoy all things weird and wonderful, you will find that aside from delicious local food and fine dining, one of the many things the French are best at is organising festivals. They have a food festival for just about everything, including some of the things you wouldn't even think to celebrate – such as prunes, herrings, melons, frogs, tripe, oysters, carrots, truffles, strawberries, apples, raspberries and the pig.  This article spotlights on some of the weirdest French festivals you can imagine, so you too can join in the fun.
Lemon Festival 
It might top off your favourite drink, or you can mix it with olive oil for a simple salad dressing, but few would have thought up a festival to celebrate this sun coloured fruit. This huge festival in Menton, Provence Alpes, Côte d'Azur, is now in its 81st and was originally founded by hoteliers who wanted a winter parade. The Biovès garden is transformed into a mass of decorations and light, and you can watch floats of citrus fruits being paraded through the streets. This year's celebrations (2014) are from February 15 – March 5.
Black Pudding Fair

Like it or love it the French have a festival in March dedicated to this blood sausage at Mortagne au Perche, Normandy. Just over three miles of black pudding is sold at the fair which has around 100 exhibitors. Butchers have the chance to win prizes, and the highlight of the day is the pig squealing competition, where the contestants make various pig squealing noises on demand.
The Snail Fair 
This fun and wacky festival is one to watch out for in April, although you might want to give it a miss if you have a phobia of these slimy creatures. Held in Osenbach, Alsace, you can enjoy cooked snails, and bet on the snail race which features a custom built course.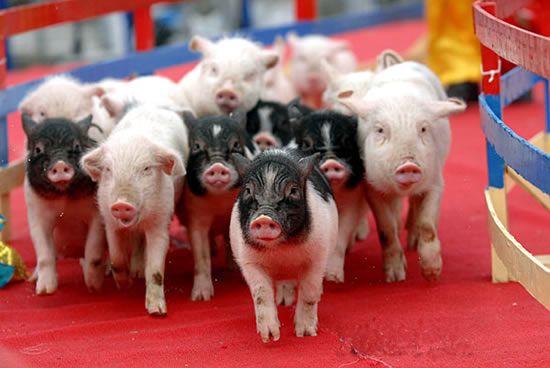 Festival of the Pig 
The festival of the pig is held annually on the second Sunday in August in Trie Sur Baïse, in south west France, one of the main pig rearing regions. You can dress up as pigs, pig out on sausages, cheer on your favourite pig at the pig races and even jig along to some live music. But the top event, just like at the Black Pudding Fair, is the pig imitation competition.
Prune Festival 
This dried fruit is celebrated in full glory at the annual Prune Festival in Agen, lot-et-Garonne, on the last weekend of August. Tens of thousands of festival goers watch the street shows, browse the market stalls, taste the famous Prunes of Agen and listen to free live music. The history of the prunes can be traced back to 13th century when crusaders presented a cutting from a plum tree to the Benedictine Monks of Clairac and when the fruit dried in the sun it transformed into the Prunes of Agen.
Milk Festival
This weird and wonderful event is annually held in mid-September at Le Quesnoy, Pas de Calais. As well as featuring more than 100 fine specimens of cow, it also elects a young woman to be Miss Protein.
Mud Day 
Although this isn't a food festival, it is an odd event in France where contestants complete a 13km obstacle course in Beynes, Paris, and get…well…very muddy along the way. It takes place in September and is fun to watch, although you might be a bit reluctant to participate.
Herring Fair 
A festival dedicated to oily fish may well be one of the last things that you would expect, but the Herring Festival is alive and well and attracts hundreds of visitors to the Leiurey, Normandy, each year on November 11. The festival can trace its roots right back to the 15th century, with the siege of Orléans. The fish was being transported by carts inland when a violent snowstorm stopped the load at Leiurey, so the fish was sold on site to prevent waste. The fair features a herring eating competition where you can win the much coveted prize of your weight in herrings!
Citations:
Michael Sawyer writes for Hamiltons Removals who specialise in removals to France as well as a full range of UK, Europe and worldwide destinations.