Mutton Biryani is a hearty dish, sure to win the admiration of your guests. It consists of layers of saffron-infused rice and mutton, cooked in a method known as 'Dum".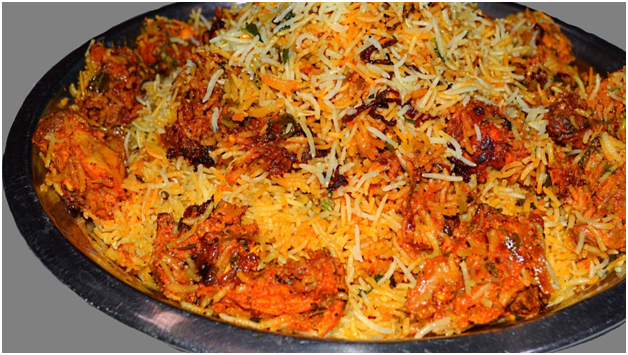 Use the best basmati rice for this recipe:
Mutton Biryani:
Ingredients:
For the rice-
Star anise-1
Washed and drained basmati rice-500 gm
Bay leaves-2
Black cardamom -2
Black cumin seeds -2 tsp
Black peppercorn-6
Green cardamom-6
1 inch cinnamon sticks-2
Cloves -6
Fennel-1tsp
Jaiphal- ¼
Javitri-1
Salt-3tsp
For Marinating Mutton:
Mutton cut into pieces of 2 inches -1 kg
Garam masala- 1 tbsp.
Garlic paste-1 tbsp.
Ginger paste- 1tbsp
Paste of raw papaya- 3tbsp
Hung curd- 4 tbsp.
Juice of 1 lemon
Red chili powder-1 tbsp.
Salt-1/2 tsp
Other Ingredients:
Thinly sliced oninons-4
Chopped tomatoes-2
warm milk- ¼ cup
Ghee
Saffron strands-a few
Oil
Kewra essence
Rose water
Green chillies-4
Method:
For marinating mutton:
Add curd, raw papaya paste, ginger garlic paste, salt, chili powder, garam masala and lime juice to the mutton.
Allow to marinate for 3 hours.
Preparing onions:
Slice onions thinly. Fry in pan with oil till golden brown.
Keep stirring constantly while frying.
Keep fried onion on a plate lined with paper.
Cooking the mutton:
Heat ghee in pan with thick bottom.
Add rest of sliced onions with green chili. Cook till golden brown.
Add ginger- garlic paste and combine well.
Add the marinated mutton and cook on high heat (7 to 8 minutes).
Add red chili powder, cumin powder and coriander powder. Mix well.
Stir into this, three cups of water. Bring to boil.
Reduce heat and cook covered till mutton is cooked.
Add garam masala, salt, tomatoes and coriander leaves.
Cook on medium heat while stirring till ghee separates from spices.
Preparing Rice:
Soak basmati rice for 20 minutes in water. Wash and drain.
Take cinnamon, cardamom, cloves, jaiphal, javitri, black peppercorn, star anise and shahi jeera in a piece of cloth and tie into knot (potli).
Boil 750 ml of water and add rice,potli, bay leaf, and salt.
Cook till rice is done by one-third.
Remove Potli and drain rice.
For Saffron Milk:
Add few saffron strands to ¼ cup of milk
Keep for 20 minute and add rose water and kewra essence.
Combine well and keep away.
Layering the Biryani:
Take a heavy bottom pan with tight lid.
Add 2tbsp Ghee to the pan. Keep on low heat till pan is covered with ghee. Take off heat.
Add a layer of cooked rice, followed by cooked pieces of meat, fried onion slices, ghee and sprinkle saffron milk.
Continue to build up layers or rice and meat. Rice will start and finish in the layers.
Garnish with chopped coriander and mint, slit green chilies and fried onions. Add juice of half a lemon.
Put on the lid. Secure pan with aluminium foil. Cook on very light heat. This is the 'Dum' process of cooking which must be done for 40 minutes.
After this time, take Biryani off heat and allow to stand for 10 minutes.
Serve hot along with salad.
This is one of the most delicious recipes that use Basmati rice. Basmati rice is growing popular globally and there is a great demand for organic basmati rice from India. It is unmatched for its texture, flavour, aroma and nutritional value.