Some jobs such as tree care can be too big or too dangerous especially when you are not a professional; you cannot attempt a DIY when dealing with trees. The rule of the thumb when dealing with trees remains the same; always have a tree care professional to deal with any challenges. These professional have the skill required to work at different heights and remain safe while working around electrical wires, buildings, fences, other homes or even wildlife. If you are going to get your money's worth, you need to ask a few questions before hiring a tree service: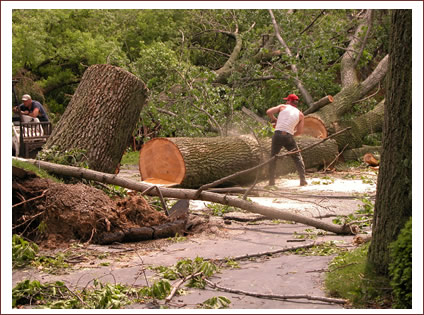 Are they insured? This should be your first important question; any tree specialist you deal with must be properly insured so that you can avoid any liabilities should there be an accident of any kind as they work for you.
Do they have credentials? You must only hire a tree care specialist who is a certified arborist and accredited by all the relevant professional organizations. If they will be working close to electrical lines they should be approved line clearance arborists.
Do they have references? A good tree care company worth its salt should be willing to share a list of their satisfied customers. Always ask them for a list and addresses of customers the have served within the last month few months and where possible speak to a few of them.
Are they able to give correct estimates? Always insist on a written estimate from at least three different companies so you can be able to do a comparison of the prices or even understand the scope of works that are involved.
How do they approach the job and do they have proper equipment? Some unscrupulous tree care specialists will bring heavy equipment and roll it over your beautiful lawn so that at the end of the day your lawn and flower beds will get damaged. Do they have the patience to locate where your sprinkler or any other objects that can easily get damaged are? Do they have a policy regarding anything they will damage and are you in agreement with their policy? It is important that you also get to know how they plan to clean up after their job is done.
How long are they going to take? When a company gives you their estimate, it should also include the duration they think the exercise will take. You will get surprised that while one company will give you six hours, the others could say three days or one week.
How long will the project take? This is why getting an estimate is handy. One company might say three days while another company says three hours.
By asking some of these questions, you will be protecting yourself and your property before you hire a tree cutting service to do any dangerous job for you.