Blend some camping, with lots of glamour and a decent dose of business sense, and the result is a wonderful home based business that looks set to beat the unstable economy.
Across the country, home-based businesses and cottage industries are on the rise. It seems when you can't find a job the best thing to do is make one. And as glamping is also becoming more popular its only natural we see the two join forces.
Families have started cutting back on luxuries in this economic climate.  That, coupled with holiday chaos felt after volcano ash clouds, airport strikes, freak weather and natural disasters mean that camping holidays are becoming more popular.
The imaginations of entrepreneurs have been fuelled.  They've used camping with a modern twist to establish more home-based businesses like unique campsites and eco-tourism. From yurts, bell tents, vintage caravans and camper vans, there's never been so much choice on what you can do for a relaxing break outdoors.
Creating a business from nothing is exciting and rewarding, but it also involves time and effort. Many people do it to maintain control of their future and keep a sense of freedom, but you need willpower, modesty and determination to achieve this.
One of the keys to developing a successful business is to offer customers a high quality product or service that they will enjoy in many different forms, and will inspire them to keep coming back for more. In order to keep delivery standards high it is advisable to offer something you enjoy and that you have a genuine passion for.
I bought my first vintage caravan a few years ago and I very quickly bought two more. Initially I set to work renovating the caravans, but Easter was only a few weeks away and I was very aware I needed to do something about marketing.
So I built the bones of my website with the help of my friends who are web designers in Essex. Then shortly afterwards another friend gave me a two-hour tutorial on twitter. Then together with my new business, I was launched into the huge world of social media.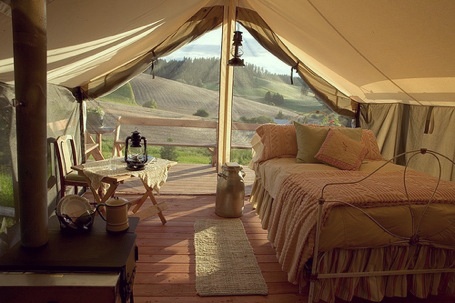 My web-based marketing continued, but so did my plan to co-ordinate a collective photo shoot. I knew I needed strong images to draw in my audience but I just couldn't justify the budget for a professional shoot myself. So I approached like-minded local vintage-based businesses to see whether we could work together and achieve a photo shoot that would benefit us all at a lower cost for all of us. We employed an established vintage photographer to do our photo shoot.
Completing the work on the caravans and coordinating my first photo shoot with so many participants, all whilst undertaking a gas safety course and designing a website was without doubt one of the most challenging projects I've ever undertaken, but the results spoke for themselves.
The hard push with early marketing paid off when I started to receive calls from customers.  The images of the caravans really sold my service.  In my first year I had all 3 caravans booked out all summer and received my first wedding booking!
I've had my ups and downs but I can honestly say that working in the vintage sector has completely restored my faith in British business values. There is a sincerity and belief in traditional values here that I don't see in other business sectors. For that reason alone I love my vintage caravans, but I also get masses of joy from offering a great service to my customers and seeing them enjoy something I've made.
To anyone considering establishing a camping based business I would say only do it if you have a genuine passion for hard work and a love of the British weather.
My Top Tips for New Businesses
Track down the best location you can for a glamping site.
Use styling and create an authentic ambience around the glamping site, not simply within the accommodation area. Using vintage artefacts such as milk churns, tin baths, troughs, and fire pits in original animal feeders, to create a holistic experience can do this.
Always go the extra mile and don't stand still. Constantly look at ways to improve your service and to stay one step ahead of the game.
And my key recommendation to start a successful business is to work as part of a team. If you look you will find many businesses out there ready to work in partnership with you. Supporting each other can help all the businesses become stronger and I would encourage any new business to get out there and network as soon as possible.