They say it's the most important meal of the day, and the thousands of people that call the Punjab region of India their home seem inclined to agree. The culinary tradition of this vast part of India has a far-reaching influence that has seeped not only into the closest neighbouring states, but across the land.
Staple ingredients in this part of India include rice, wheat and plenty of dairy produce in all its many forms. Additionally, the traditional method of tandoori cooking originated in the Punjab with baked meats and flat-breads receiving this treatment on a regular basis. These key ingredients and cooking techniques are utilised in a wide range of signature, Punjabi dishes and many of the best are those designed to break your fast first thing in the morning.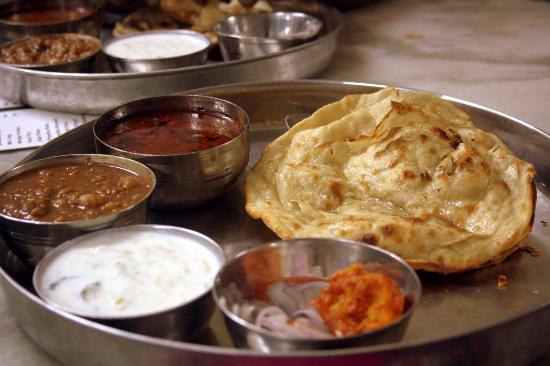 Here are some lip-smacking specialities from the Punjabi breakfast menu:
Chana masala is also commonly known as chole masala and is a popular morning option in the Punjab. It consists of spiced chickpeas mixed with chopped onions, tomatoes and a variety of aromatic, Indian seasonings such as garam masala. It is usually eaten with a specific type of crispy, fried bread, forming the dish chole bhature – a hefty breakfast to be washed down with a creamy lassi.
The tasty paratha is popular throughout South Asia due to its sheer versatility. It is the most popular type of flat-bread in the northern part of the continent, created from layers of dough, brushed with ghee and cooked on a hot tava. This flat-bread is a staple, everyday Indian breakfast food although it can be enjoyed at any time of day and makes a wonderful tea-time snack, perfect for rolling up and dunking. They are often stuffed with fillings such as potato or paneer, but are equally delicious eaten simply, spread with a melting chunk of butter.
A tasty breakfast or evening snack, halwa poori is made up of two separate types of food. The poori refers to the deep fried, crunchy bread and the halwa is a thick pudding consisting of various fruits, vegetables, grains, nuts or lentils flavoured with ghee, sugar and a splash of milk.
Also refered to as dahi bhalla, this breakfast snack consists of a deep-fried fritter or vada immersed in a thick, clotted dahi or yoghurt. When fully coated in yoghurt, they are then garnished with a smattering of herbs, chilli powder, green chillies or shredded coconut, according to taste.
And to drink…
A glass of rich buttermilk makes the ideal accompaniment to breakfast in the Punjab. Simmered with a variety of warming spices such as cardamom and ginger, sweetened with sugar and sprinkled with nuts, pistachios and almonds, you'll never go back to your morning cup of builder's tea.
But if you are the sort of person that can't fully wake up without a cup of tea, try the Indian version – an aromatic masala chai. A black tea brew spiced with cardamom, cinnamon, cloves, ginger and occasionally black pepper, the Punjab's take on the humble cuppa embodies exotic India through and through.
Enjoy samples of Punjabi cuisine as well as specialities from many other regions of India at Masala Zone, one of London's best Indian brasseries.