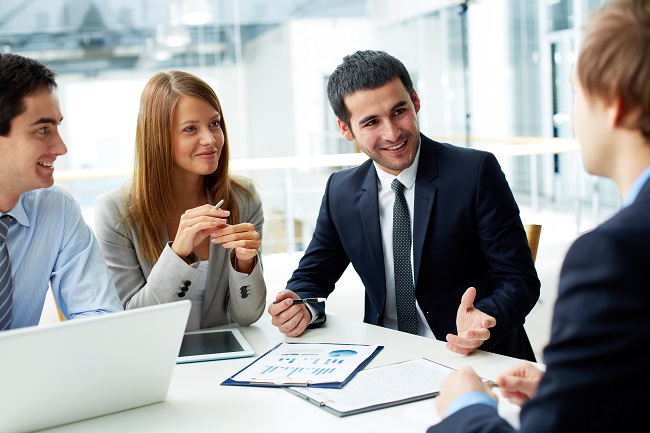 Landing a big catch in the business world can be a boost to your success at work, but making a solid business connection is just one piece of the puzzle. You need to maintain those connections in order for them to pay off for you in the long run. There are ways to keep business associates and acquaintances in your corner should you need a favor down the road. And this networking strategy works as a two-way street: you could help others out in their careers just as easily. Golf games, fishing trips, or a simple luncheon or dinner can be the keys to maintaining those all-important business friendships.
Building Connections
Building and maintaining business connections is key in the business world for many reasons. Some customers will pay more for your company's product or service if they feel a personal connection with you. When you look at it from a public relations standpoint, relationship building is a cost-effective endeavor because it only involves your time. It takes time to build a quality business relationship, but there are ways to achieve it. Most importantly, make time to reach out on a regular basis and inquire about how your clients are doing. You'll not only find out their satisfaction level, you'll also keep your finger on the pulse of what they need from you and how you can help them out. Forgo the email every once in a while and call them on the phone instead. While an email is certainly easier, a phone connection puts you in touch in real time, adding a personal level to the communication you just can't get via text or email. Another nice touch is a personal note dropped in the mail to your client to let them know just how much you care for their business. Invite your clients for a game of golf, give them tickets to a professional sports game so they can take their families, take them out to dinner or lunch, buy them a token gift for the holidays, or invite them fishing for a day. Becoming friendly outside the work environment shows you value them beyond just business expenses.
Networking and Being Prompt
There's more to building connections than fishing trips and golf games. It goes deeper than that. Try branching out beyond your target market and networking outside your established comfort zone. Reach out to other target markets and their members, or friends of friends of your business associates and peers. You never know who you'll meet that will need your services, whether now or in the future. Diversify your approach. Do things for others that won't necessarily gain you an immediate return on your investments. Do something helpful for someone, refer a customer, help organize an event—whatever you can do to implant yourself firmly in their minds. This way, when they do need a product or service you offer, you will be the first person they call.
Above all, it's important to listen to your business associates, clients, and potential clients. Jot things down when you hear them, like when a client says his child is turning 16 soon or his son is joining the military. Follow up on those issues later and ask how things are going.
This article was written together with Richard Craft, an MBA student who hopes to help you improve your business. He recommends that you check out Sentis, the number one choice for businesses looking for the keys to ensuring operational excellence. Check out their website today and see how they can help you improve your business!